Sartorially speaking, there's so much to love about fall, not least of which is the switch from shorts to leggings.
Already the building blocks of the well-rounded wardrobe, in 2020 terms, comfy, stylish leggings are more important than ever before. But which pairs promise to hold up and never let you down?
For that, we went to Bare Necessities buyers Kelly Morales and Megan Irvine. According to our sources, these are most legendary leggings.
Without further ado, check out our annual Leggings Awards winners.
For the second year in a row, this Hue pair takes the prize. Not only are they top quality everyday opaque black leggings for the price, they're super comfortable and really flattering, thanks to that wider-than-most waistband. The Lycra-Spandex blend is what allows them to both fit your figure and keep their shape, even after repeat washings-and-wearings. And should you love them so much you're ready to expand your collection, they also come in heather gray, white, navy and olive green.
It's 2020—way past time to expect democratic sizing. Commando delivers where so few others manage to come through. From XS to 3X, anyone can get in on the haute, haute, haute faux-leather look or make a high-shine statement in ersatz patent leather. That both pairs are figure-flattering, look so luxe and elevate every outfit only adds to the appeal.
Show a little skin without revealing your own or taking anyone else's. These croc- and snake-embossed pleather leggings are actually made of super comfy 4-way-stretch microfiber, with a little extra shoring up in the tummy region. It's incredible how they completely transform a neutral sweater or basic long-sleeve tee. Pair with booties or loafers and you're fashionably on-time for fall with not a whole lot of effort.
Before this, jeggings were a bit of a joke: Precisely no one was convinced they were jeans; you may as well just put stick grommets on sweatpants. But this pair finally gets it right. The fabric blend isn't all that far off from real denim, but with a higher stretch content and lower percentage of cotton. The different washes, plus the patch pockets and belt loops, mean they also look like actual jeans but feel noticeably softer. The slim leg, high-waist and ankle length are on trend, and they hold their shape so you won't end the day wearing stretched-out, saggy bottoms. Plus, even the comfiest jeans can't touch this price. This is what we'll be wearing to work from home all fall.
Our other two-time winner is this innovative, go-everywhere pair that takes you seamlessly from your workout to the rest of your life. On the performance side, their gentle compression eases muscle fatigue and improve circulation; laser-cut edges never dig—important when you're wearing them for hours on end. On the style side, the soft microfiber and an inner panel smooth the waist and tummy. We also really appreciate that they're machine washable and quick-dry because you can really put them on repeat all week.
Sporty racing stripes make these cropped leggings look cute, but there's so much more to them than just good looks: UPF 50+ fabric takes them through every season; Double Dry compression fabric feels great against your skin and flat seams prevent annoying chafing while you're trying not to think about how hard you're pushing yourself.  Bonus points for the zippered pocket sewn into the waistband for essentials when you're working out away from home.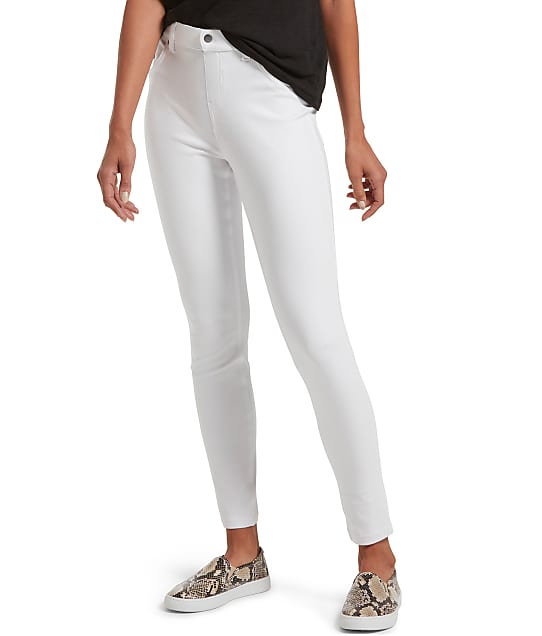 From left: Hue High-Waist Denim Leggings, Commando Fast Track Leggings and Champion Sport High Waist Leggings
The following two tabs change content below.

Brooke is the editor of this here blog. In a previous life, she was an editor at Good Housekeeping and O, The Oprah Magazine. Brooke has written for Glamour, Travel+Leisure, New York Magazine and more. She's into concerts, travel and her exceptionally adorable daughter and husband.

Latest posts by Brooke Glassberg (see all)