If you're plugged into pop culture, you're probably hearing about half-size bras. At Bare Necessities, we know the phenomenon is nothing new; it's been tried many times before. Playtex introduced the "Thank Goodness It Fits" collection years ago, which included "nearly" sizes (Nearly A, Nearly B and Nearly C) and the "Half Sizes Too" line.
Half-sizes seemed revolutionary when they launched but, despite a big marketing push, the collections were discontinued—they just weren't relevant. Here's why they're nothing more than smoke and mirrors…
THE PROBLEM WITH HALF-SIZE BRAS
We reviewed the half-size bras currently on the market and found a lot of inconsistencies. Typically, there is a half-inch difference from one bra size to the next. You would assume that a half-size would fall exactly between the two whole sizes, right? But that's not what we found. In some cases, it's 3/8" and, in others, we found it to be as much as 5/8"—that's more than one full size!
To simplify the math further:
Half-sizes do nothing more than double the amount of confusion surrounding bra sizing.
And get this: A factory is generally granted a quarter-inch tolerance, meaning it's allowed to be off by that much when sewing the garment. I don't know about you, but I swell and bloat and size up and down quite a bit throughout the month. Is it really helpful to add half-sizes when a bra is likely to vary by a quarter inch anyway, and I'm fluctuating at least that much from one day to the next?
It's a wonder these bras fit anyone. What's really going on here is they're using materials with very forgiving fit. Most of the half-size bras on the market are made using supple materials like four-way-stretch foam or memory foam. These fabrics warm to your body and conform to your figure. There's a lot of leeway. A quarter inch here, a quarter inch there…it's barely detectable.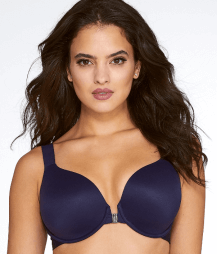 A lot of awesome brands make bras using these ultra-comfortable materials because women love how they feel. Here are a few of our top picks in this category:
Spanx Bra-llelujah Front-Close T-Shirt Bra
Chantelle Modern Invisible T-Shirt Plunge Bra
Calvin Klein Perfectly Fit Memory Touch Push-Up Bra
Half-sizes are not necessary. A well-constructed, supportive bra developed by expert designers on a fit model and wear-tested on real women is going to work for 99.9% of us without half-sizes. They are a solution to a problem that doesn't exist.
THE REAL SOLUTION
Anyone can find the right fit if they change bra styles or try a different size. Many bra makers stock around 30 sizes; ThirdLove is trumpeting carrying 70. We carry 167 bra sizes and swimwear in 113 bra sizes to serve all figure types; we specialize in hard-to-fit and hard-to-find. Our incomparable size range lets full-busted and full-figured women look and feel amazing.
You might like the look of a demi bra or balconette, but it might not be your body's best bet. Of course, we don't expect you to know how to wade through the thousands of amazing bra styles out there—that's our job! We've been in the bra business for decades. We take fit personally. Our certified, trained Bra Fit Experts can find your best fit over chat (visit barenecessities.com) or phone (call 877-728-9272, select option 4).
Here are some quick fit tips to consider:
If you could use a little extra room but don't quite need the next cup size:
try loosening or tightening your straps
test out a different style. If you're shallow up top, try a demi bra, a plunge bra or a memory foam cup.
consider your "sister size," which means going down a band size and up a cup size. For instance, you might go from a 34D to a 32DD. Be sure to tighten the straps to bring the cups as close to the body as possible. That's probably your best fit.
If you find your cups are generally a little big:
try a plunge bra. Regardless of bust size, petite women—often targeted by half-sizes—are best served by a plunge bra, which has a lower center gore that takes the pressure off the breastbone.
This is just some of the expert info our Bra Fit Experts have stored in the database of their brains. You can easily connect with someone who can narrow the selection on barenecessities.com, or try our Expert Bra Finder tool for personal recommendations.
And no matter which way you go, know this: Bra fit is as much an art as it is a science. Our experts are here to help you get it right and make it easy.
To find your perfect bras, call or chat with a Bra Fit Expert at 877-728-9272 (select option 4) or barenecessities.com.
The following two tabs change content below.

Moira Nelson
Director of Design & Product Development
Moira is a bra biz veteran who's passionate about building new brands and product innovation. Moira is also a relentless do-gooder, fighting for social justice and volunteering locally. She loves playing with her 95-pound rescue dog, Gracie.

Latest posts by Moira Nelson (see all)