Cate Scaglione has seen it all.
As the owner of Life As Fine Art Studio in Red Bank, NJ, she's photographed women in their 20s and in their 70s, fiancées and divorcées, every conceivable body type and even a Real Housewife. In fact, she's widely recognized as one of the country's go-to photographers for these intimate boudoir (that's French for "a woman's private bedroom or sitting room") sessions.
"There's a misconception that you have to be 25, blonde and thin to do this, but my average clients are middle-aged women with big careers and money to spend on a Bucket List experience for themselves," says Cate.
Find out why she left the corporate track to carve out her own niche, what's so magical about lingerie and why she thinks stripping down is the most freeing thing a woman can do.
Q: Tell us about what you do and how you got to where you are now.
A: I own a photography studio, but the experience is designed to provide so much more than a shoot. I consider it a "spa day for the soul." It's a haven where women can have a life-changing, confidence-boosting experience that celebrates their beauty, sensuality and feminine empowerment. My goal is to help women see themselves as art. While most of my clients seek me out for boudoir photography, I also create fine art and imaginative fantasy portraiture, and I also have commercial clients seeking artistically-styled photography for lifestyle brands.
Before opening my studio, I was the Director of Global Advertising for Fortune 500 brands. It was definitely a career path where art and commerce intersected daily: turning complicated products and commodities into aesthetically beautiful, emotionally resonant objects of desire for the consumer. I spent a lot of time on the sets of TV commercials and print photo shoots, working with some of the best photographers and cinematographers in the world. Having both a right brain and left brain orientation has helped me to be successful in the business of art.
Eight years ago, I helped co-found the Association of International Boudoir Photographers to unite professionals in this unique niche. It has grown exponentially into a place of support, friendship and fun for these pros.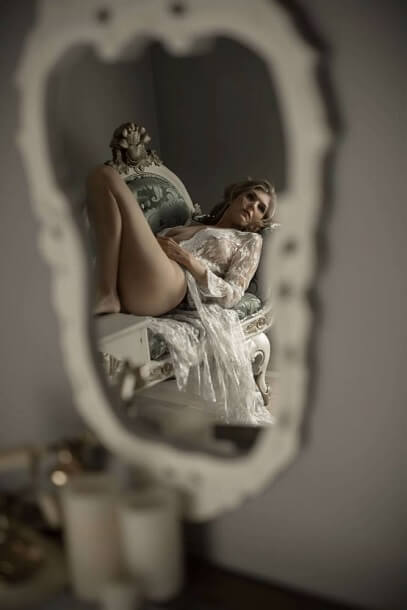 Q: How did you know you were meant to be a photographer? When you tell people what you do for a living, how do they react?
A: At some point I knew I liked business but was also an artist, so advertising seemed like a logical choice, a way to combine the two. I set off to become an ad creative, and I geared my studies toward advertising with a terrific business curriculum that also incorporated art classes. Photography was a requirement, and in the darkroom developing film, I realized I loved creating images. I loved composing shots, specifically of people, and I photographed a lot of fine art nudes.
It was a sort of foreshadowing, I suppose. Once my career started, I photographed less and less. But I was sitting on set one day at a warehouse in Brooklyn overseeing a campaign shoot. We were working with a very famous photographer at the time, and I was just observing, in awe of how she composed the assignments so artistically, fascinated by how she interacted with the subjects. She was creating beauty from simplicity. Everything suddenly became epic. In that moment I thought, Why am I sitting here watching this? Why can't I actually be doing this?
Q: What did it take to strike out on your own?
A: I never imagined I would have the courage to leave my well-planned, high-octane career to make a living as an artist/entrepreneur. It was the "One Day If…" wish that I couldn't fathom building from the ground-up.
Sometimes, life intervenes for you. When my second child was born ill, I knew it would be impossible to continue working in my fast-paced corporate advertising life, and I resigned. I also knew I couldn't just sit around the house with the babies; I felt the need to create. I picked up my camera again and started taking family and child clients. Then retail brands and adults began wanting portraits and campaigns.
One day I was hired by an author to shoot two women who weren't models sensually for a cover image. I loved it. Seeing how my direction, guidance and vision helped make them look their best was so gratifying. I thought, What if every woman had a chance to do this? They do a session when they're getting married, turning 50, getting divorced or marking some other milestone. They'll often say it's a gift for their partner, but the experience is fulfilling and therapeutic for them, too.
People are usually shocked when I say what I do, but equally intrigued. When I fully explain the nature of it, they're often inspired to do it themselves.
Q: What does a typical day look like?
A: My studio is in an old church, and my space used to be the choir loft. Some joke about the scandalous nature of this, but I see my space as a sanctuary where women can feel safe to unleash their inner selves. It's a peaceful, beautiful, luxurious space that clients travel to from all over. I arrive at the studio and prep our in-house hair and makeup room with my stylist, pour some Prosecco, turn on the music and put the finishing touches on the set.
We want her day to feel special. Upon her arrival, we lay out her wardrobe and discuss the options, accessories and settings. I then do a "posing 101" tutorial to help show her the fundamentals of what we'll be doing. I guide her the entire time so she'll look like a supermodel with minimal effort.
Three or four days a week, I'll be in sessions with clients. I only take one per day so we're never rushed. This day is about her. We shoot until I feel we've captured what we need.
The other days, we have "viewing premieres," the big reveal when the client gets to see her photos. This is super fun because clients are excited to see themselves for the first time in this way. We custom-design the album specs in this session, too. It's kind of like creating a designer handbag together: completely made-to-order.
At home at night is when I do editing and create the real magic. I have a retoucher who works with me remotely, and her job is to make my ladies look magazine-perfect, though never overdone.
Occassionally I'm involved in more high-wattage activities like TV appearances, art exhibits or fashion shows. A few years ago, I worked with The Real Housewives of New Jersey and had an episode crafted around a photoshoot in celebration of the star's cancer recovery. Showing how scars and vulnerability are beautiful on a woman to such a broad fanbase was important to me.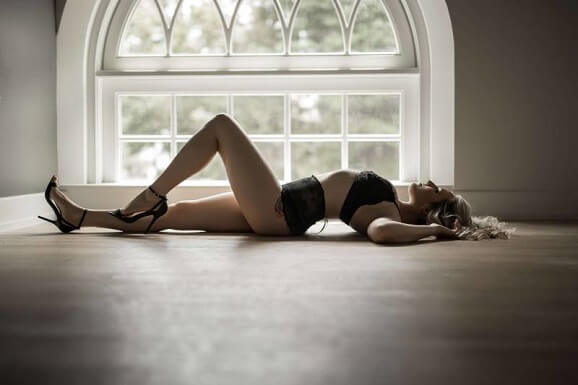 Q: What makes for a great shoot? 
A: A great boudoir shoot is determined more by the client than by me. Everyone says they're scared. I sometimes say that the most shy people have the best shoots. They come with no expectations, and one of my strengths is making people feel comfortable. Those who come in with lots of pre-determined ideas, poses, expectations or a bundle of nerves won't resonate as well. It's really those who surrender and let go who look authentically beautiful. You can see their sensual soul, stripped down beautifully in these images.
I believe the environment has a lot to do with calming clients. The studio is soothing, bright, airy and flooded with natural light. There's also the pampering luxury provided by the stylist. I play calm music as we work. I want them to feel more "spa" and less "dance club." We want them to get in touch with their feelings and vulnerabilities to a degree—not necessarily their inner stripper.
This is why people describe the work as "emotional," I think.
The Prosecco also helps.
Q: What is it about lingerie that can make women feel so feminine and powerful? How can we use that to advance ourselves, not be objectified?
A: I love, love, love lingerie. It's not about sex, it's about a feeling. It's sensual, regal, luxurious, empowering. To me, it's about putting a piece of textile artwork on your body, which is itself a work of art.
I turn clients into lingerie addicts. I recommend to them what I would wear. I have La Perla bra and panty sets that makes me feel so elegant but sexy.  I truly love La Perla. The brand really inspires me. I also wear L'Agent by Agent Provocateur pieces at the studio. Clients love L'Agent for its luxe, edgy affordability. Dita Von Teese's collection is the perfect amount of edgy mixed with femme-elegance.
I always love a great bodysuit on a client. Some styles flatter all body types so well. I also wear a lot of Calvin Klein bralettes, panties and tanks to bed. I like to shoot at least one casual look per session.
A few years ago, on my 40th birthday, I began buying beautiful lingerie to wear under my clothes. I would go everywhere—the bakery, the bank, the dry cleaner—knowing I was wearing something special. It made me feel sexier, edgier, more confident. Lingerie to me isn't necessarily about who sees it, but an appreciation that it's an aesthetic. You are an aesthetic. That's a really huge boost. There's something about knowing that this beautiful, feminine power is concealed for you alone and whomever you choose to give that privilege to. To me, it's the opposite of objectification. We are powerful creatures.
Q: How do you find balance?
A: I have three children ages 11 and under. I work flexibly all day long, edit at night and go to sleep in the wee hours. It's not easy by any stretch, and I often find myself needing to isolate. I spend so much time dealing with peoples' secrets, passions and emotions that I have to be an introvert to recharge. Solitude and quiet are luxuries, but it's when I'm able to figure things out, get ideas or find beauty.
Kickboxing, running, Pilates and yoga help reset my mind and keep me physically and mentally limber. I also take quarterly trips to shoot for inspiration or to teach workshops. Travel is a way I can step outside my crazy life. It gives me a chance to appreciate the whole from afar. Even if just for 48 hours, I take my "muse trips," and I'm always grateful to return.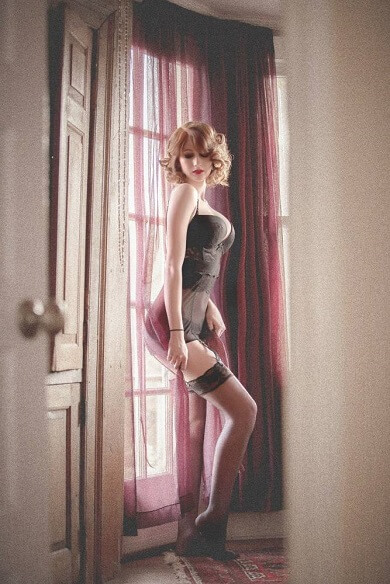 Q: What drives you?
A: One of my favorite quotes is, "Be somebody who makes everybody feel like a somebody." I'm a born nurturer, and this extends to clients. I get to know what moves them and that, in turn, moves me. All women are fighting some kind of battle within. No matter who they are, their age, size, income, career, we all struggle with the same kinds of demons. I'm fulfilled by giving people a greater appreciation of themselves.
Q: As someone who works with women every day to make them feel their most comfortable and confident, what do you wish you could tell all womankind?
A: The thing I hear the most from women is, "I want to do this for myself, but first I must…" and then they list 20 things that are "wrong" with them as excuses not to be photographed. But the before isn't where the magic happens, it's the after. It's the way this experience makes them feel about themselves afterwards that makes the difference. We need to stop feeling so much pressure to be perfect in all the dimensions of our lives and just love who we are.
I like living outside of people's expectations, and as I've grown older, I care less about what others think and more about how I feel. I've been called a "rebel mom," but that's not it. I'm not rebelling against anything; I just value authenticity. I want that kind of freedom for all women. At some point, we need to realize we are fascinating creatures, and each of us is one of a kind, a perfect YOU. There isn't a comparison or a benchmark. Be happy in your own ideals.
Q: What does empowerment mean to you? How about beauty?
A: Empowerment is having the freedom and the means to be exactly who you want to be. It isn't the same for every woman. When you feel bold and able to do what you desire without judgement, you are empowered. Beauty and empowerment are closely tied together. When you're empowered, you can be authentic, and I think authenticity is the most gorgeous thing on the planet.
THE WORLD ACCORDING TO CATE
Favorite photographer: Robert Farber. Such romantic work!
Personal mantra: Live and let live.
Guilty pleasure: Starbucks Venti iced coffee.
Greatest extravagance: A dirty Martini with 3 olives makes me happier than diamonds.
Dream job as a kid: An author.
Passionate about: Passion.
Best way to unwind: Quiet time in nature.
Favorite vacation destination: St. John, USVI, or Venice, Italy.
All-time favorite book: The Great Gatsby.
Top TV show: Mad Men.
Most amazing movie: The Graduate.
Wardrobe staple: A little black dress and tall, high-heeled boots.
Best advice: "Everything is temporary."
Biggest regret: Not taking more photographs when I was traveling the world.
Fear you're trying to overcome: Saying no.
In a word: Irrepressible.
The following two tabs change content below.

Brooke is the editor of this here blog. In a previous life, she was an editor at Good Housekeeping and O, The Oprah Magazine. Brooke has written for Glamour, Travel+Leisure, New York Magazine and more. She's into concerts, travel and her exceptionally adorable daughter and husband.

Latest posts by Brooke Glassberg (see all)