To many of us, summer camp is child's play. Ali Leipzig, 29 (top left), and Michelle Goldblum, 32 (top right), beg to differ. That's why they founded their own sleepaway camp for grown-ups in 2014.
With outposts in New York and California, Soul Camp is an all-inclusive wellness retreat where up to 300 campers—65% of them women—say see ya to their families, routines and smartphones for four days. The trade-off: access to dozens of workshops, classes and seminars (everything from stand-up paddleboarding to essential oils 101) aimed at nourishing body, mind and spirit.
When life is a treadmill going a million miles a minute, it's liberating to know you can press pause to reconnect with the things that stoke your inner (camp)fire. As it turns out, more often than not, those things tend to be simple pleasures like strolling down a country road, losing track of time floating on a placid lake or talking for hours with a new friend. Often, the best thing you can do as an adult is to remember what it's like to be a kid again.
At Bare Necessities, we're in the business of supporting women en route every day to their most authentic selves. Some days, that means putting on your big girl panties and daring to do things differently. That's why we think Ali and Michelle are such Power Figures—through Soul Camp, they're uplifting women in their own way.
In time for Labor Day, we talked to Michelle and Ali about how they arrived at their aha moment, made it happen, found freedom as their own bosses and continue being besties while (gasp!) mixing business and pleasure.
Ali Leipzig and Michelle Goldblum, Soul Camp founders
Q: How did you go from being friends at camp to starting one of your own?
Michelle: Ali and I both went to camp as kids and loved the safe, happy universe it created. As adults, we went on our own soul-searching journeys to land careers we loved and both ended up as entrepreneurs in the wellness space. I owned a branding agency, and Ali became a wellness graphic designer and body confidence coach. Our friends, clients and colleagues were all leaders and experts in the mind/body/spirit space. One day, the camp director from our childhood camp mentioned we could bring a small yoga group there if we wanted to. The seed was planted, and Ali and I started imagining how we could create the camp of our dreams.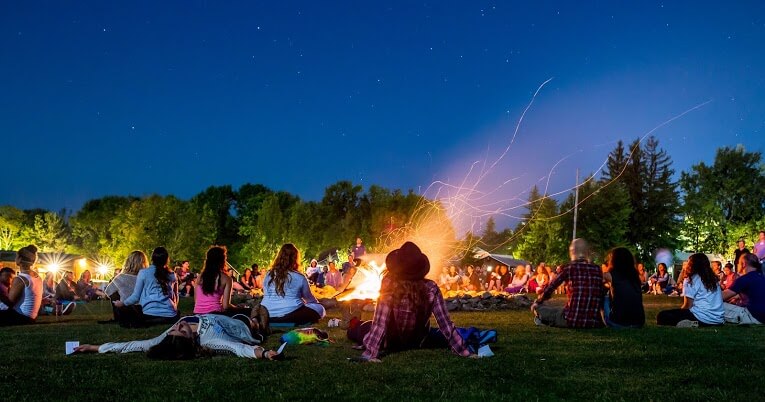 Q: Why did you feel compelled to launch Soul Camp?
Ali: Our mission is to create a place where everyone feels they belong, where everyone is able to connect with who they really are and what their purpose is. We wanted to create a place where adults could play—where they could cheer and run around without a care in the world, where they could make art, and laugh until their stomachs hurt. We wanted to create a place where people were seen and loved for who they are, not what they do. We wanted to create a place of joy, community and deep personal growth. 
Q: Why go to Soul Camp?
Ali: People who attend are looking to bring more happiness into their lives. They may have achieved everything on their to-do lists yet don't feel fully alive or fulfilled. They don't wake up joyful. They wonder, is this it? Campers come to learn life-altering tools from more than 30 experts. They come to participate in new things like Tibetan-bowl healing, breathwork, Kundalini yoga, dreamcatcher-making and improv classes. They come to meet like-minded people who are interested in having the same conversations about life that they are. They come to have more fun, for a shot of creative inspiration, for a transformative experience. 
Q: It's notoriously tricky to be friends who work together. How do you collaborate so well?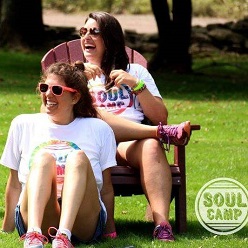 Michelle: Ali and I are best friends first and foremost. We love each other, and we feel that Soul Camp is a gift that we get to bring into the world. We're very different and celebrate each others' individual strengths. I'm a relationship-builder and the main point person for our partners and instructors. Ali is an incredible communicator who manages our internal team and pre-camp communication with the campers. We both have a branding background, which helps the company immensely, as we're able to do all design and marketing work in-house. 
Q: What motivates you?
Ali: The power of community. The power of play. The ability to help so many people wake up to a life they truly love. 
Q: What makes up your support system?
Michelle: Luckily, through Soul Camp, we have a whole arsenal of healers whenever we need any restorative work done on our bodies! We also have a wonderful, close-knit community around us constantly rooting us on and reminding us to drink plenty of water.
Q: Tell us about a failure that helped shape Soul Camp.
Michelle: Last year, we hired an advisor to run the business side of our company. From the get-go, it felt off, but Ali and I kept telling ourselves that this person knew more than us. Ultimately we learned we were right to feel that way. It was a major lesson in trusting our intuition. That's how we run our business now: completely, and from a place of knowing that we always know best. 
Q: What was your very first camp session like?
Ali: It was incredible. We walked around in awe of what we had created. Everyone was not only having the time of their lives, but they were meeting new friends, trying new things and waking up to who they really were. People left that camp with life-long friends. They made major transformations immediately following—one camper lost 150 pounds and went back to school to begin a career doing something she loved. Many of our campers started new businesses and joined new ventures. New relationships formed, babies were born…that first year was pure magic.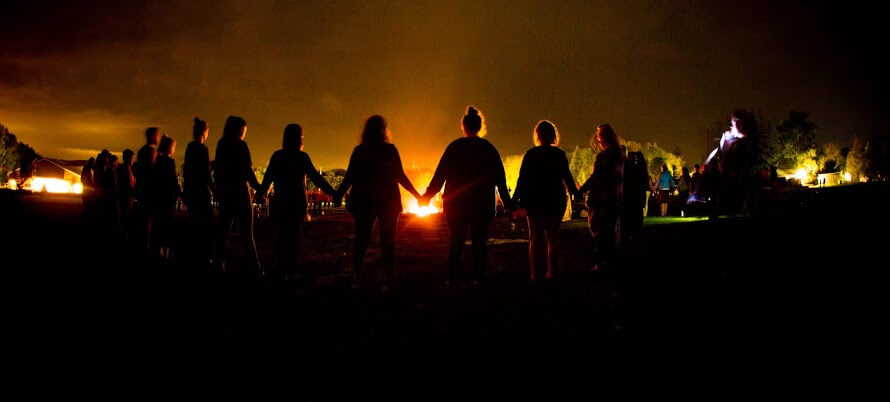 Q: What would you tell a young entrepreneur who wants to follow in your footsteps?
Michelle: Take the leap! Surround yourself with people who believe in you. Begin taking steps toward a life that inspires you even before you know exactly where you're heading. 
Q: How do you find balance and de-stress?
Ali: This is something we're still learning! We try to go to some kind of a movement class at least 5 times a week, and we have certain times where we force ourselves to completely turn off. Oh, and a lot of massages. 
Q: What's your secret of living a great life?
Michelle: Don't take everything so seriously. Laugh and sing a lot. 
Q: What does empowerment mean to you?
Michelle: It means freedom.
THE WORLD ACCORDING TO ALI AND MICHELLE
Personal mantra
Michelle: It's all working out.
Ali: Anything is possible.
The best thing about camp
Michelle: The people!
Ali: Watching everyone make new friends.
Style signature
Michelle: Mala beads and, most recently, my engagement ring!
Favorite bra
Michelle: Anything by Chantelle.
Ali: Same here!
Best piece of workout wear
Ali: My "Happy Camper" tank top.
Superpower you wish you had
Ali: Flying
Role model
Michelle: Anthony Robbins
Best TV show
Ali: Parenthood
Favorite emoji
Ali: Heart eyes
Mood-boosting song
Ali: "Can't Stop the Feeling" by Justin Timberlake
Craziest thing you've ever done
Michelle: I booked a solo trip to India on a Groupon voucher.
Describe yourself in one word
Michelle: Excited.
The following two tabs change content below.

Brooke is the editor of this here blog. In a previous life, she was an editor at Good Housekeeping and O, The Oprah Magazine. Brooke has written for Glamour, Travel+Leisure, New York Magazine and more. She's into concerts, travel and her exceptionally adorable daughter and husband.

Latest posts by Brooke Glassberg (see all)