Truss (noun): structural frames based on the geometric rigidity of the triangle
Trussed (verb): tied, bound or fastened
Trust (noun): confidence; a thing on which one relies
Bras are impressive feats of architecture in their own right, but they haven't changed all that much in the last, oh, century. That is, until Trusst Lingerie came along.
The renegade bra company was co-founded a little over two years ago by Sophia Berman, CEO, and Laura West, chief product officer. This month's Power Figures studied industrial design at Carnegie Mellon University, met later in life at a design firm and—both crafty and interested in textiles—soon found themselves wondering if bras couldn't stand to be improved. Reinvented, even.
"We were talking about how much bras suck, how the underwires stab you, straps dig, and we said, 'There's got to be a different way to do this,'" said Laura. "The underwire isn't a totally flawed system, but we knew there was room for improvement—for all women." The general public seemed to agree: Their 2015 Kickstarter campaign raised $80,000, flying past the $25,000 goal they set.
With Sophia in Chicago and Laura in Pittsburgh, they started working with AlphaLab Gear, a hardware accelerator program. They made some "very rudimentary" prototypes. They bought a 3D printer and played with different materials. "There hasn't been a lot of innovation because bras and different bodies are so complex," Laura said. "It's actually easier now than historically thanks to technology. Traditionally, there's been such a long lead-time, and it was expensive."
"There were a lot of robotics companies" working beside them and their bras, recalled Sophia. She and Laura also encountered more than a little resistance: The start-up community and the majority of investors are male-dominated, and the lingerie industry is overwhelmingly established.
The Trusst concept started with sketches, evolved to pinning fabric and then CAD modeling. "The CEO of AlphaLab is a woman, and she has daughters. They got it," said Sophia. She and Laura have tested their designs on real women—never mannequins—since day one. In the beginning, as Sophia was trying on a bra, she realized, "I guess we're going to be naked a lot! We're blunt, opinionated, and exceptionally comfortably with each other," she says of their Pittsburgh-based team of five.
In addition to building a brand, product testing, fittings in their showroom, creating a website and handling social media, the duo also recently had a pop-up store in the Galleria of Mt. Lebanon mall. "We don't sleep much," Sophia admitted. "I didn't appreciate how hard it was going to be." Laura concurred: "A few months in, I realized how much we'd bitten off."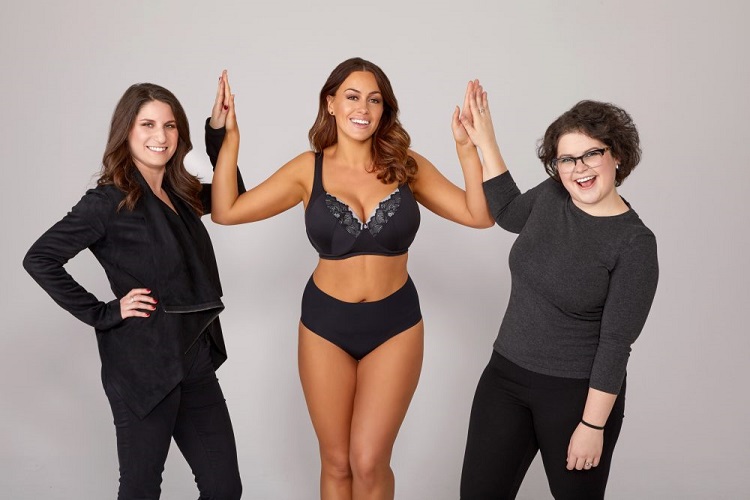 Q: How do Trusst bras work?
Laura: Think of a bracket that takes the weight of a shelf and transfers it to the wall. That's what we do using the core of the body. The BAST (Breast Advanced Support Technology) System is embedded into the cups of the bra, so it's never going to poke or rub. The material, chosen by our VP of Technology, who has a PhD in Chemistry, is a patent-pending plastic support that's rigid yet flexible, lasts for ages and conforms to the body. Our heather gray fabric reminds us of our favorite tees, yet it's wicking, antimicrobial, look good and is the softest, most comfortable ever. Testers have said it's like their breasts are floating on pillows.
Q: What's the most unique thing about your design?
Laura: The way it's made. It's one cohesive, embedded system. It's really comfortable! There's this feeling of relief on your shoulders and back when you wear a Trusst bra. We have to reeducate people because these bras aren't made to tack in the middle—they don't need to anchor to the chest from the same point [as a conventional bra].
Q: Who is Trusst designed for?
Sophia: For fuller-busted women in particular, there are physical needs and pain points. I'm a 30E, and Victoria's Secret doesn't work for me.
Laura: Trusst is for the woman who has felt neglected, for whom nothing was working. She's busy, she's active, she can't be weighed down by the weight of her boobs. She is the general population of this country. The women who are hearing about us by word of mouth are so excited by the new technology. We created a brand people are excited to be around.
Q: How do you work together? What have you learned starting a company?
Sophia: We make a lot of decisions together, and we differentiate tasks. Laura is a skilled maker; she knows how to construct things quickly and efficiently. I'm more the fundraising, business-development person. There's a lot of give and take. We're good about aligning, and we have informal advisors when we need help making a decision.
Laura: We both wear a lot of hats. You have to be flexible yet persistent. Don't be afraid to take risks or break a few rules—the most successful people tend to be rule-breakers.
Sophia: You need a strong support system of your own. Our bras are named after our moms. My mom, Jessica, drove a sewing machine from Minneapolis to Pittsburgh for us. Laura's mom, Suzanne, helps out in the store.
Q: What is your mission?
Laura: We are women supporting women. When you wear things that fit, you look and feel more confident. It takes one more thing off your brain. We all deal with so much, we have more things to think about than men, from our families to going out there in our careers and killing it. Your underwear shouldn't be one of those things.
Q: What are your future plans for the brand?
Sophia: I can't wear Trusst bras…yet. We'll continue to go up in sizes, continue innovating and researching. We're anticipating doing more styles, potentially a sports bra, as well as matching panties.
Laura: We'll continue to refine this first generation of bras. They will get better based on the data we're actively soliciting from the women who are wearing them—everyone gets a card with the bras asking them to take a survey about what they like or don't like. They're very passionate and vocal.
Q: What do you wish you had known when you started out?
Sophia: That it's incredibly challenging to fit women who are each so unique. That there are so many millions of components to a bra. But it's probably better that I didn't know, or maybe I would have thought better of it.
Laura: That bras are so personal—fittings are like therapy sessions. Lingerie affects people's lives.
Sophia: That running a start-up is like a rollercoaster; we have to find ways to make it more of a smooth stream.
Q: What's the best advice you got?
Sophia: "Don't skip the lotion on your legs." Life is going to suck sometimes, but don't forget to take care of yourself.
Laura: "Just do it. Why put off until tomorrow what you can do today?" Stay up the extra hour and get it done.
THE WORLD ACCORDING TO LAURA AND SOPHIA
Personal mantra
Sophia: "Ever notice how 'what the hell' is always the best answer?"
Laura: "Live so that when you're 80, your grandkids will be proud of the stories you tell." I want to be the cool grandma.
Style signature
Laura: My glasses. Glasses always make you look smart. And when in doubt, black it out—black is always a do.
Greatest extravagance
Sophia: Food. I will forgo almost anything for a good meal.
Superpower you wish you had
Laura: The ability to completely turn off my brain, or to never get tired and have to sleep.
Proudest moment
Sophia: Watching our team be motivated. They're passionate enough to work late on a Friday night on something we started. We're not just two crazy women.
Laura: Yeah, we've been able to corral a group of crazy women!
Vacation destination
Laura: I just got back from the vineyards in Mendoza, Argentina, and I really enjoy being in Hong Kong. I spent probably three months there last year working with our factories.
Sophia: Turks and Caicos. I love scuba diving and eating an entire fresh fish down to the bones.
Perfect day must contain…
Laura: A checked-off to-do list and a really good glass of red wine.
Sophia: Sunshine in Pittsburgh and a pair of yoga pants.
To nominate someone as a Power Figure, email blog@barenecessities.com and tell us who she is and why she's such a mover-and-shaker.
The following two tabs change content below.

Brooke is the editor of this here blog. In a previous life, she was an editor at Good Housekeeping and O, The Oprah Magazine. Brooke has written for Glamour, Travel+Leisure, New York Magazine and more. She's into concerts, travel and her exceptionally adorable daughter and husband.

Latest posts by Brooke Glassberg (see all)