Sarah Chiwaya, the blogger and founder of Curvily and the associate fashion editor at Plus Model Magazine, walks the proverbial walk and talks the proverbial talk.
Curvily is about fearlessly bringing plus-size fashion to the fore where it rightfully belongs and, when Sarah came by our photo studio to show how she would pair some of fall's trends with bras that really fit, that's just what she did. As soon as the flashbulbs started popping, Sarah owned the place. She knew what she wanted, going so far as to schlep in her own accessories to finish each look. Sarah did not for one second flinch at a plunging neckline or shy away from a sheer shirt and, in her conversations off-set, dazzled everyone she met with her passion, wit and boldness.
Her message—wear whatever you want if it makes you feel great—was deeply resonant and inspiring and, what's more, she wants the same for you, too. It starts with one's own self-confidence, and it ends with fixing the way women are depicted in modern society and in the media. Her life's mission is to actually bring about those changes. Sarah is more show than tell, and we got right away that we were in the presence of a Power Figure out to do no less than change something about the way the world works.
We dug deeper with Sarah to find out how she got to be so fearlessly self-actualized, what she's seeing in the industry and what literally keeps her up at night.
Q: What's Sarah Chiwaya all about?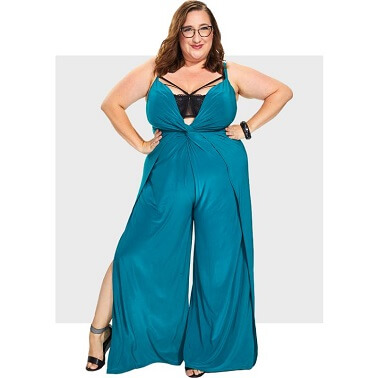 A: I'm passionate about the importance of representation and fighting against an unjust status quo. I always felt like I was meant to be in a big city, and when I moved from Michigan to New York City ten years ago, I immediately felt right at home. I've been in Manhattan ever since, and I absolutely love it here. My husband and I live with our cat, Lyra, and her puppy sister, Pantalaimon, or Pan for short.
Q: How did you find your calling?
A: After my wedding, almost five years ago, I found myself picking apart our wedding photos. I was mad at myself for not losing more weight despite going on a really restrictive diet. I saw how amazing everyone else looked, but all I saw of me was my double chin from smiling so hard, or my arm looking bigger because I was squeezing my new husband so tightly.
Not long after, I found plus fashion bloggers and the body-positive community and started following a bunch of gorgeous women of all shapes and sizes. Fast forward a few months, and after changing my media intake and seeing beauty in women well beyond the one tiny model body type we're taught to strive for, my perspective shifted. The next time I looked at our wedding photos (trying to make an album, which I still haven't finished), I saw how happy and radiant I looked instead of reducing myself to a pile of flaws. Seeing the wedding pictures anew was a lightbulb moment for me. The difference was what media I was consuming. I wanted to be part of that group breaking boundaries and showing other women that style, beauty and value are not limited to sample size. So I started Curvily, and it's been an epic journey since.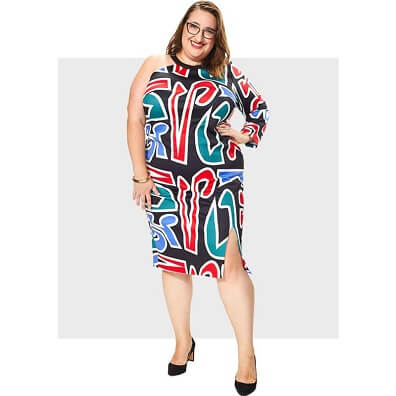 Q: What are your favorite projects to work on?
A: I love to help my readers, whether it's finding them the garment they're looking for or inspiring them to wear something they never thought they could. Every thank you message I get makes the late, late nights worth it.
Q: What's been the biggest challenge you've had to overcome to get to where you are?  
A: Knowing my own worth. As women, we are often told to be humble so much that we feel like we can't speak to our strengths and advocate for ourselves. It's still something I'm working on, but I'm proud to say I've come a long way.
Q: When you're juggling multiple projects at once, how do you find balance?
A: I try to prioritize what needs to be done first without letting myself be caged by that priority list. I often think of an idea or solution for one project when I'm working on something entirely different, so I click to whichever of my 8,000 browser tabs is relevant and work there until I need to switch again. I'm also a big proponent of getting up to walk frequently—my habit of drinking tons of water every day naturally facilitates this.
Q: What's the #1 thing you need for an awesome shoot or story?  
A: Something that I actually like! I learned long ago that while I love challenging myself and pushing past my comfort zone, if I do all that and still just don't like something, the result won't be genuine, and my readers are smart enough to tell the difference. So now I don't accept anything that doesn't truly excite me.
Q: What about the fashion/publishing/social media industries is changing?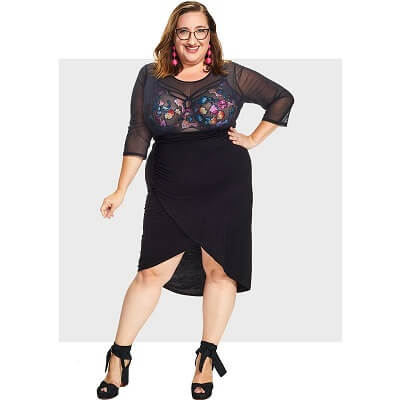 A: Increased representation! Bit by bit, and at a slower pace than I'd like, but it is happening. Voices that weren't previously being heard have a platform now, and the mainstream outlets are noticing. We just have to speed up the process!
Q: What's the best advice you can give to those who want to follow in your footsteps?
A: Blogging only makes sense if you really care about it. If you're thinking about it for the free stuff or perks, you'll quickly find that there are many more efficient ways to get those things, but if you're passionate about something, all the work pays off when readers tell you how you've impacted their lives.
Q: What does empowerment mean to you?
A: Freedom from arbitrary limits on what you want to do.
THE WORLD ACCORDING TO SARAH
Personal mantra: There's no size limit on style.
Role model: Gabi Gregg, one of the OG "fatshion" bloggers.
Favorite bra: Curvy Couture Strapless Multiway Push-Up.
Style icon: Rihanna.
Greatest motivation: Helping people.
Favorite product: I can't overstate the importance of a good primer. I love Lancôme.
Best mood-boosting song: "7/11" by Beyoncé.
Bad habit: Shedding my outfit willy-nilly when I get home.
Biggest misconception: That blogging is easy.
I feel most beautiful when: I'm with my amazing husband.
Most regrettable trend you've tried: Corduroy.
Heels or flats: Flats, though I do love a block heel.
Secret talent: I can touch my nose with my tongue, which is supposed to be impossible.
Guilty pleasure: The Bachelorette and a big glass of wine.
Comfort food: Apple fried pierogies or a good mac and cheese.
Latest hobby: Cooking! We're hooked on Blue Apron.
Happy place: A tranquil lake at the end of a hike in Harriman State Park.
Favorite app: Kindle.
Favorite book: The Golden Compass, if you couldn't already tell by our pets' names, and Ria's Web of Lies by Nigel Henry.
Biggest risk: Leaving a high-paying job to work for a company I care about.
Biggest regret: Student loans (*sob*).
Friends would call me: Talkative.
Greatest strength: Intelligence.
In a word, I am: Rising.
Now check out Fall's Top Trends (and the Bras You Need for Them), the blog post we partnered with Sarah on, over at Curvily.
The following two tabs change content below.

Brooke is the editor of this here blog. In a previous life, she was an editor at Good Housekeeping and O, The Oprah Magazine. Brooke has written for Glamour, Travel+Leisure, New York Magazine and more. She's into concerts, travel and her exceptionally adorable daughter and husband.

Latest posts by Brooke Glassberg (see all)