Summer's unofficial end may be a mere three weeks away, but swim season is still going strong. In fact, the first look at spring 2020 has just hit our shores here at Bare Necessities, and we're giving you an exclusive preview as we transition over to fall. So whether you have a warm-weather getaway planned for over the holidays or just want to get a sneak peek of next swim season, don't miss all the fun, flattering newness still flowing in, like…
ABSTRACT ANIMAL
Pour Moi Island Escape Rope Bikini Top
This coming spring, you can expect to see a lot more of this new species of animal print in untraditional, fantastical colors and designs. Sometimes, the combination of pink and red can come across overly saccharine, but in smaller doses—like this angular spotted motif bordering on a camouflage print—the effect is absolutely stunning.
A CLASSIC, REIMAGINED
Fantasie Santa Monica Bikini
A polka dot print is always a do; so is high-contrast black and white. What's new about this timeless look is the textured stretch microfiber fabric that gives it some nice structure and substance for fall and spring. Bonus: There are near endless top/bottom combinations you can create within this collection (and anything else black or white you already own).
THE NEW BLACK BEAUTY
Pour Moi Space One Shoulder Bikini Top
This brand-new little black swimsuit is an eye-catching, geometric showstopper that doesn't sacrifice support. The asymmetric cut of the top is fresh and unexpected. It's somewhere between a bandeau, a bikini and a one-shouldered goddess suit (love the touch of gold hardware), which makes it really versatile as far as bikinis go.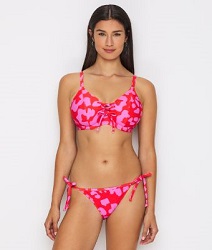 BOLD + BRIGHT
Elomi Plus Size Electroflower Bardot Bikini
All-the-colors rainbow prints started popping up everywhere this summer, starting with the 50th anniversary of World Pride and filtering to pretty much every category of the fashion spectrum. Go for a little (as in this Elomi Nomad Plunge) or go for a lot, but whatever you do, go for it before the sun sets on this happy trend.
MODERN BOHO
Freya Culture Jam Bandeau Bikini
If you're a pushover for a unique print you won't see coming and going on everyone else, then this colorful bohemian bikini top with side boning and power-mesh wings would make a savvy addition to your aquatic attire. Its barely-there bandeau shape (those straps are detachable) helps prevent crazy tan lines as summer wraps up; the underwire won't let you down.
SUBTLY SAFFRON
Fantasie Anguilla Gather Full-Cup Bikini
Yellow continues to be another major trend for next season, but it's less bright, more spice. Anguilla from Fantasie is a best seller from spring 2019 that's been re-colored for fall. This saffron palette, mixed with pinks and greens, flatters a whole host of complexions. Wear it now with your sun-kissed glow; wear it later to start spring on the right note.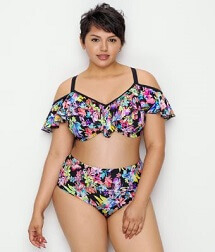 From left:  Elomi Plus Size Electroflower Bardot Bikini, Freya Culture Jam Bandeau Bikini and Fantasie Anguilla Gather Full-Cup Bikini
The following two tabs change content below.

Brooke is the editor of this here blog. In a previous life, she was an editor at Good Housekeeping and O, The Oprah Magazine. Brooke has written for Glamour, Travel+Leisure, New York Magazine and more. She's into concerts, travel and her exceptionally adorable daughter and husband.

Latest posts by Brooke Glassberg (see all)