We're taking this show on the road! Bare Necessities staffers are on summer hours, living their best lives out in the world and sending back virtual postcards from paradise with all the travel lowdown on their warm-weather destinations.
The first one to pack a suitcase and turn on her out-of-office message was Tera Gallagher, our premium brands assistant buyer, who just got back from a week in Puerto Rico with her fiancé, Matt, and another couple. We grilled Tera for insider intel, should a trip to this affordable, incredibly beautiful Caribbean island be in your future.
Check back all season for more wanderlust-inspiring reports from near and far.
Why Puerto Rico
Matt and I got engaged there last year on a 36-hour whirlwind trip, and when our mutual best friend from college mentioned he and his girlfriend were going, we invited ourselves along to get the full experience. The weather is amazing this time of year—sunny and hot every day with absolutely no rain and, since school hasn't let out yet, the beaches were relatively empty.
Where to stay in Puerto Rico
Give me an Airbnb over a hotel any day. We stayed in Isla Verde, about 15 minutes from Old San Juan. Convenient, private and beachy in the coolest way. The host provided everything—beach chairs, umbrellas, coolers, games. We never could've brought it all, and it would've cost a fortune to rent everything. We had tons of space, including a huge wraparound terrace with a pristine beach view. On days too packed with activities to eat out, we got to cook.
Things to do in Puerto Rico
We took the Bacardi Distillery Tour and Mixology Class, and now we can make world-class mojitos at home. We spent a morning at Castillo San Felipe del Morro, a 16th-century fort in San Juan full of history, not to mention gorgeous views. But our favorite activity was a private boatride and snorkeling trip to the Fajardo Keys, about an hour east, where we spent an afternoon on Cayo Icacos, the most gorgeous secluded beach I've ever seen in the Caribbean.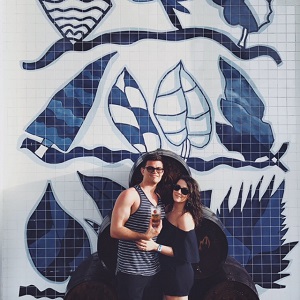 What to eat
Plantain everything. The main dish is mofongo, and you can have it with chicken, fish, pork…. We had fried sweet plantains, plantain gnocchi; it's all incredible. I also ate grilled chicken with Puerto Rican yellow rice more times than I care to admit.
Best breakfast
Zest at the San Juan Water Beach Club has excellent, authentic Puerto Rican coffee, great food, service and views. I had the Benedicto, classic eggs Benedict with pork belly and chimichurri hollandaise.
Best dinner
Pamela's in Ocean Park, where you can eat with your feet in the sand! Between the four of us, we had seafood croquettes, barrilitos chicharrones, yuca chicken roulade, pistachio-crusted tuna, the sweet plantain gnocchi and langostino mofongo. All were delicious, but the mofongo was our favorite. Paired with a glass of Prosecco at sunset, it was perfect. And this is where Matt and I got engaged, so it's extra special.
Best cocktail
I didn't have a bad one, but the best by far was at La Factoria in Old San Juan. If you prefer a frozen beverage, the Dragon Mojito at Mist Rooftop Bar is the way to go. Mist has a cool vibe, with the best views all the way to Playa Condado.
Nightlife in Old San Juan
There are tons of small, unique bars that are easy to walk between. Definitely check out La Factoria, which is connected to three other bars, including one for salsa dancing. The bartenders are extremely talented mixologists—it took 20 minutes to get four mojitos, but it was worth the wait just to watch him. We also liked El Batey, where you can write your name on the walls and have free reign over the classic rock jukebox.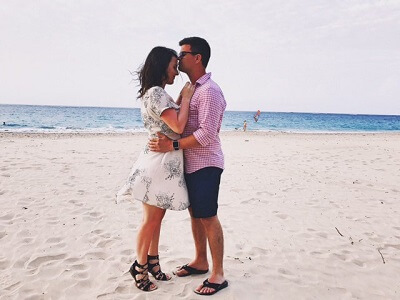 What to Pack
For my swimsuits, the Becca Sicily plunge one-piece for sexy coverage, and the Freya Remix top for all-day support paired with the Freya Sundance Rio bikini bottom to add texture and interest. For a bra, the Panache Elan strapless was a lifesaver for off-the-shoulder tops and dresses. It stayed up all day long, even in the heat.
Beauty Essential for the Sun
I started with SPF 70—the UV rays are powerful there all day—and gradually worked my way down to SPF 35. The new Glossier Invisible Shield left no white residue, smelled amazing and protected my skin.
The following two tabs change content below.

Brooke is the editor of this here blog. In a previous life, she was an editor at Good Housekeeping and O, The Oprah Magazine. Brooke has written for Glamour, Travel+Leisure, New York Magazine and more. She's into concerts, travel and her exceptionally adorable daughter and husband.

Latest posts by Brooke Glassberg (see all)