Bra fans know Chantelle has a longstanding reputation for making beautifully constructed lingerie. (By 'longstanding,' we're talking 1876.) But it's fair to say a lot has changed over the past 144 years, wouldn't you agree? In fashion, that's translated into a much greater emphasis on comfort—hard pass on the whalebone corsets and what have you.
So while stoking that storied tradition of classic French design, Chantelle has evolved. Loosened up. Let her hair down. The brand's latest offerings include two wire-free bras and two underwire bras that blend support with the highest possible degree of comfort, which feels more important than ever.
"All women want an easy fit from their bras these days," says Bare Necessities buyer Heather Viskovic. "Chantelle is now delivering that, in a characteristically Chantelle kind of way." See what she means…
CHANTELLE SOFT STRETCH BRALETTE 
Just about all of our favorite bra brands do a wire-free, stretchy, over-the-head style now. They're just the thing for downtime, like running errands, working from home—even for sleeping. Chantelle's brand-new contribution to the field is special because the modesty inserts aren't removable; they're sandwiched and bonded between the fabric so they won't shift, warp or come out in the wash. We also love what a forgiving fit this comfy, smooth, seamless style offers…up to a G-cup! Plus it's part of the Soft Stretch collection, rendered in the same thin, forgiving material as the popular panties.
CHANTELLE C MAGNIFIQUE WIRE-FREE MINIMIZER
If you know and love the C Magnifique minimizer collection but have been hoping to get in on the underwire-free trend, today is your lucky day. This soft, stretchy comfort bra is also—quelle surprise!—one of our all-time favorite minimizers. The supportive full-coverage, molded cups have a soft knit lining for comfort, but no padding to speak of. For minimizer fans in general, this new take is a must-try.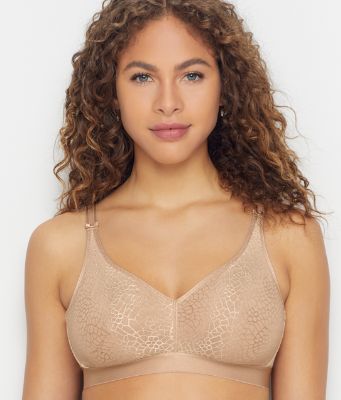 "This one is like nothing I've ever seen before," Heather says of Prime Comfort, an innovative double-knit spacer fabric underwire that feels like athleisure but works like a real bra. All of the support comes from the firm, sporty band—the darted cups themselves are really soft. The design, which suits both average and full busts, is at once feminine and sporty. "The high apex, the way it looks like a triangle, is really great for those of us who may not be full on top," she adds.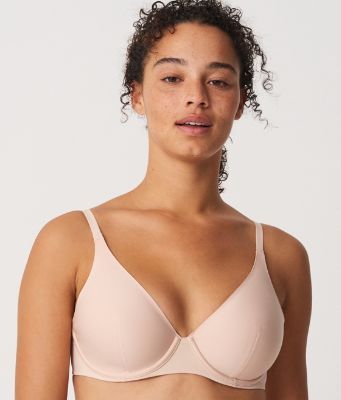 The "comfort support" bra is a novel one for Chantelle. With the Norah (also for average and full busts), all of the support comes from within the cups: Inside, you'll find supportive seaming plus an underwire; outside, you'll find soft, stretchy seamless lace. The underband is "yummy soft," says Heather. "I could wear this one every day."
Now, so can you.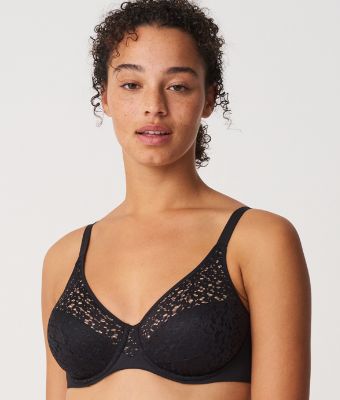 The following two tabs change content below.

Brooke is the editor of this here blog. In a previous life, she was an editor at Good Housekeeping and O, The Oprah Magazine. Brooke has written for Glamour, Travel+Leisure, New York Magazine and more. She's into concerts, travel and her exceptionally adorable daughter and husband.

Latest posts by Brooke Glassberg (see all)