Sometimes, fate meanders, bringing us baby step by baby step to places in life we never could've predicted.
Sometimes, it's a straight shot.
Looking at Dora Lau's success, you can almost see it preordained, each dot connecting sequentially and building on the last lesson at the optimal moment. Dora evolved from a curvy teenager searching for the right clothes she could never seem to find to a fashion stylist to a lingerie trailblazer, founding Dora L International, Inc. in 1991 and racking up the accolades. In 2012, she laddered up another level when she launched Curvy Couture, her self-funded label for women much like herself, with elevated expectations and a taste level to match.
Bare Necessities interviewed Dora about that process of finding your calling and achieving your dream—not just down the road, but every day.
Q: What path led you to where you are now?
A: My family owned a popular record company in Hong Kong. Our label produced top local artists with some of the bestselling albums in the Cantopop genre. At an early age, I was involved in creating the artists' public image—choosing fabrics and custom-designing gowns and suits for their concerts, often traveling to Europe to shop the couture houses of Paris and Milan. I quickly understood that foundation garments made all the difference in the artist's overall appearance.
I was also curvy growing up. Finding clothes that fit and looked good was impossible, so I started designing and making my own. After graduating from design school, my first endeavor was creating eveningwear for full-figured women. To me, the industry has always underserved the curvy woman.
Q: What pushed you to start Curvy Couture?
A: Being a stylist first taught me how important intimate apparel layers are to the shape and support of the body, and to the confidence that comes from feeling beautiful and free. My passion evolved from styling to design and now manufacturing: Full-figured intimate apparel with a true artistic heritage is very hard to find, especially when it's comfortable and affordable.
Q: How did you rise to become one of the experts in this field?
A: I've always understood that "confidence is the sexiest thing a woman can wear!" This is a new era for women with curves, and Curvy Couture gives women the confidence and sophistication they've been longing for. Curvy Couture marries the best design with the latest technology to bring women lingerie that shapes, fits and flatters all body types. We've worked with and spoken to thousands of women around the world and heard what they wanted.
"This is a new era for women with curves"
Q: What challenges did you have to overcome in launching the label?
A: We tried to launch the Curvy Couture concept with different partners but felt there was a lack of dedication to high-quality materials and all the extra details that make the product special. That's when I decided to launch Curvy Couture myself; it's been self-funded since 2012.
More than 64 percent of women are wearing the wrong bra size. It's our job—and challenge—to help them find the right size and style to shape their curves, resulting in a greater sense of confidence.
Everything happens for a reason with its own life lessons, so the evolution of the brand has been a great learning experience that's led to our present success.
Q: What is your mission? What kinds of innovations make Curvy Couture bras different?
A: We're on a mission to communicate Curvy Couture as the intimate apparel brand that's synonymous with sophisticated and glamorous lingerie for sizes 34C-46H that makes women feel their very best.
Perhaps what's most impressive about Curvy Couture is our relentless pursuit of the new materials and technologies that we adamantly incorporate, ensuring both the artistry and femininity of every design. We offer technologies not found in other brands, like our signature thin, lightweight micro-lined foam pads that shape and support without adding volume.
Q: Before Curvy Couture, what was lacking in the market for full-bust and plus-size customers?
A: Through the past 20 years of studying and fitting our customers' curves, we've developed our own set of grading [i.e. sizing] rules. Many labels are now jumping on the full-figure bandwagon because it's a niche market, but grading from missy sizes to full-figure doesn't necessarily work. At Curvy Couture, we've customized our grade rule to the function of each style.
"Many labels are now jumping on the full-figure bandwagon"
Q: When did you know Curvy Couture was making a difference?
A: Almost immediately, the response to our collections was astounding. Feedback at boutiques, online, through social media and at tradeshows focused on our approach to everyday luxury and an appreciation for seamless underwire cups that are virtually invisible under clothing. After each style launch, the positive feedback has been impressive.
 Q: What are the signature bras that work for many of your customers?
A: With seven ways to wear it, our Strapless Sensation Multi-Way Push-Up creates the sensational, lift-loving shape women crave. Women love the amazing fit and how it's been engineered to stay in place on any body. The Tulip Push-Up is our best-selling contour bra and remains a fan favorite year after year, not just for how it feels—heavenly—and how it looks under clothes—beautiful—but for its smooth lace and contoured microfiber cups that offer an easy go-to for every day. And I can't forget about our Cotton Luxe Wire-Free Bra, which is a favorite for its two-ply hot melt technology for the ultimate in comfort, support and lift.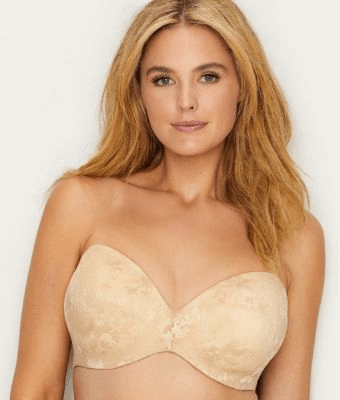 Q: How does getting into the right bra change you?
A: Women tell us that they stand straighter and feel happier, sexier and more confident. They focus less on wanting to lose weight and more on their beautiful, curvy shape.
Q: What's coming down the road for Curvy Couture?
A: We're super excited about our new sport bras. Functional and fashionable, the line is in full support of a woman's active lifestyle. It's got all the signature Curvy Couture designs and fabric technologies that women expect from us—no-bounce cups, breathable mesh panels, moisture-wicking fabric and, as always, a stylish look.
Q: What's a typical day like? What motivates you?
A: No day is typical, and that's what I love about this business. One day, I'm working with women and finding out more about their needs and challenges; the next day, we're bringing the inspiration to life. I'm motivated by the positive feedback from our customers, boutiques and other members of the industry.
"No day is typical, and that's what I love about this business"
Q: How do you find work-life balance?
A: It's important to take a break and visit places that are inspiring. It opens your mind to new ideas and concepts. The shape of a flower or the color of a body of water have found their way into several collections. I also find it very important to have a regular exercise routine—I love Zumba!—and to surround yourself with the people and pets you love.
THE WORLD ACCORDING TO DORA
Favorite bra: The Strapless Sensation Multi-Way Push-Up.
Role model: My mother was tough but had the most amazing entrepreneurial spirit.
Proudest moment: There have been so many, from the birth of my sons to the launch of Curvy Couture. I couldn't pick just one!
Secret to living a great life: Love, great food, delicious wines and a passion for what you do.
Greatest extravagance: Being generous to others.
Dream job as a kid: Having my own business that made a difference in people's lives.
Hidden talent: I'm a terrific cook.
Fear you're trying to overcome: Not doing my absolute best every day.
Favorite city: Bologna, Italy.
Best TV show: Sex in the City.
Favorite emoji: Hearts.
Comfort food: Pasta.
Craziest thing you've ever done: I introduced myself to Tom Cruise.
Perfect day must contain: A hug from my doggies, Gianna, Nina and Henry James.
The following two tabs change content below.

Brooke is the editor of this here blog. In a previous life, she was an editor at Good Housekeeping and O, The Oprah Magazine. Brooke has written for Glamour, Travel+Leisure, New York Magazine and more. She's into concerts, travel and her exceptionally adorable daughter and husband.

Latest posts by Brooke Glassberg (see all)