Four years ago this month, Theresa Specht, a preschool teacher and mother of two, was lying in bed watching television when a public service announcement about Breast Cancer Awareness Month came on. At 29, she had never really thought to thoroughly check herself out.
That's the night she felt the lump in her left breast.
"My husband told me, 'You didn't have cancer an hour ago; you don't have it now" and to relax and get some sleep," Theresa recalls. Her gut told her otherwise.
Just before her 30th birthday, Theresa was diagnosed with stage III lymph node-positive breast cancer.
She had no risk factors or family history and tested negative for the BRCA gene. Her cancer, in her breast and lymph nodes, appeared to be estrogen-driven and was positive for the HER2 protein. "It's a nasty cancer, but for that reason, a lot of research has gone into developing drugs to target the protein," Theresa says. (It's unclear whether her Cowden syndrome, a rare genetic variant, played a role.)
After six cycles of chemotherapy, a year of targeted biological therapies, a bilateral mastectomy and prophylactic hysterectomy, six weeks of daily radiation, reconstructive surgery and ongoing use of Tamoxifen, Theresa is still here, showing cancer who's boss. She shares with Bare Necessities 10 truths about what happens when you've emerged from the fight of your life and it's time to pick up where you left off:
1. Even when you're told you're cancer-free, you don't feel out of the woods.
"Cancer is always in the back of my mind. Every time I have a headache or back pain, my mind automatically goes to a dark place," says Theresa, who has a physical every six months and keeps anxiety in check by talking to a therapist. "I hug my kids and tell them I love them every single day." Her advice: "Never feel ashamed or embarrassed. It's normal to be freaked out. Don't give up. The road gets harder before it gets easier, and the struggle never really ends, but keep fighting."
2. Breast cancer opens a Pandora's box of healthcare concerns.
Theresa needs to be on Tamoxifen for ten years, which carries a risk of uterine cancer. Given her estrogen issues, she decided to have a hysterectomy; in the middle of her breast cancer battle, Theresa also entered into chemical menopause. Her hairline is receding, and she endures hot flashes. Because she was irradiated and had lymph nodes removed, she's also susceptible to lymphedema, meaning no injections, tattoos, blood draws or anything on her left side, ever.
Because of the chemo, steroids and hormonal therapies, at one point Theresa was up to about 250 pounds. "When you're weak, losing weight is difficult. Everyone is different—I didn't look like the stereotype of someone with cancer," she said. "I thought like Giuliana Rancic, I could just have both of my breasts removed and get on with life. It doesn't work that way."
https://www.knowyourlemons.com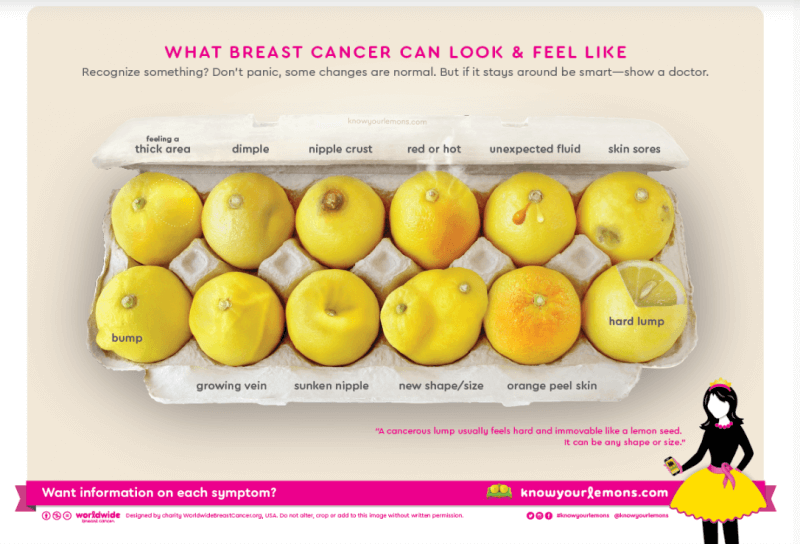 3. Getting implants is the most exciting part.
Theresa's plastic surgeon inserted expanders immediately after her double mastectomy. "The expanders have to be filled before radiation starts so implants can go in later because the skin gets tight and hard," Theresa explains. "They felt very uncomfortable, like Ziploc bags full of water." She wore the expanders for nine months before her exchange surgery—expanders come out, implants go in. Theresa recalls wearing a lot of sports bras and stretchy bralettes. (On the pro side: "With implants, it's a lot easier to wear a less supportive bra!")
She told her doctor she wanted to be a C-cup, and to try to make them even—since her left breast received radiation, that side is smaller. "I couldn't wait for this surgery! It was something to look forward to," says Theresa. "When I saw the C-cups, I told the doctor to keep going. At the end of all this, I wanted to be unnatural. I wanted an upgrade."
4. Like real breasts, implants aren't perfect.
"I thought my breasts must've been crooked because they were always spilling out of my bras. I didn't realize it was because I was wearing too small a cup," said Theresa, who had an eye-opening bra fitting with Bra Fit Expert Mette. (Find out which bras worked best for her below.)
5. Vanity goes out the window.
Theresa's body went through the wringer with the double mastectomy ("Afterwards, you're leaking surgical fluids, so they sew drains into your sides. I walked around with tubes under my clothes for a month"), expanders ("I thought I was going to be devastated without my breasts and look like a freak, but it was the least of my worries") and radiation ("It's horrible. Your skin turns gray. My bras and shirts stuck to me, it fries your skin so badly").
6. You may be able to save your nipples.
"Because my tumor was off to the side, I was a candidate for something that's still kind of rare: The surgeon spared my nipples. The odds of cancer in them was so small. Usually, they have to tattoo a nipple back on." Theresa opted for different kinds of tattoos: "Warrior" on her shoulder and a pink ribbon with boxing gloves on her forearm.
7. It helps to know what to expect.
"There's a Facebook group where we share pictures of our scars to help others see how you're likely to heal," says Theresa, whose dear friend Sabrina was diagnosed right after she was. Theresa tried to be a cancer mentor to Sabrina, who passed away earlier this year at 35. "Sabrina was so positive, making plans until the very end," says Theresa. "Hope kept her going."
8. Nothing phases you anymore.
Before breast cancer, Theresa winced at having blood drawn. "Now you just go with it. Whatever you have to do to my body, go ahead." Same goes for those around her, too: "My son got so used to seeing me at the doctor, I wouldn't be surprised if he became a surgeon."
9. You become an activist.
"I got involved with the American Cancer Society's Making Strides Against Breast Cancer and Relay for Life. They're such positive, uplifting events. You leave them changed."
10. You get serious about self-care.
"I do intravenous vitamin infusions and started kickboxing as soon as I had enough hair to put a headband on, though I was still hurting. I couldn't do a plank, sit-up or push-up and felt like I was going to throw up the entire time. The team at the gym wouldn't let me quit. It was one of the best things I could've done for myself. It gets rid of stress and is so empowering. I feel the strongest I've ever felt in my whole life."
And it shows: Next year marks Theresa's five-year all-clear.
THERESA'S BEST BRAS
Simone Perele Andora T-Shirt Bra (shown here)
Chantelle Rive Gauche Bra
Freya Fancies Plunge Balcony Bra
Panache Andorra Bra
Natori Feathers Plunge Bra
Our Bra Fit Experts are trained to assist at every step along the journey through breast cancer. You can reach someone at 877-728-9272 (select option 4) or chat at barenecessities.com.
Read more posts on Breast Cancer Awareness here.
Do you know someone who has been affected by breast cancer? Show her your support by nominating her in our giveaway.
The following two tabs change content below.
Brooke is the editor of this here blog. In a previous life, she was an editor at Good Housekeeping and O, The Oprah Magazine. Brooke has written for Glamour, Travel+Leisure, New York Magazine and more. She's into concerts, travel and her exceptionally adorable daughter and husband.
Latest posts by Brooke Glassberg (see all)