There's a lot of shapewear out there, and it's not always easy to tell which are the real stars and which are going to give you a stomachache.
That's where we come in.
The best shapers never overpromise, underdeliver or make you suffer. On matters of both comfort and style, they let you play up your favorite features, encourage you to walk taller and make you feel more confident than you did without it. They help your body and your clothes look the way you most want them to.
That's all buyer Melissa McDonald ever stocks in the Bare Necessities shapewear department. These are her five favorite pieces that do it all this fall, the go-tos that create a smooth foundation for every occasion. So whether you're a shapewear evangelist or skeptic, now you're in the know with her must-have picks for a picture-perfect season.
The Bra: Spanx Bra-Llelujah Front-Close T-Shirt Bra

It's a stretch to even call a bra this comfortable shapewear, but despite its dreamily soft, elastic-free design, it still manages to eliminate back bulge and create a nice, rounded shape. In back, a wide band of Spanx's signature smoothing hosiery gives a flawless finish; up front, underwire cups give amazing lift. We're big fans of the SmartStretch straps, which mold to your shoulders without digging into them, and all the fun colors. This ultra-fine seamless stretch-microfiber bra disappears under whatever you're wearing. "Bra-Llelujah" is right: This is the bra you forget you have on. Amen to that.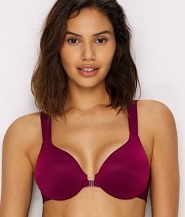 The Panty: Spanx Suit Your Fancy High-Waist Shaping Thong

If you have to wear something every day, you might as well make sure it packs some benefits. For all of the tummy control with none of the visible panty lines, this bustline-grazing pair of panties is the way to go. While the fabric manages to be thin, soft and breathable, the long top panel smooths around your sides and flattens the stomach. Thin strips of silicone ensure it neither rides up nor rolls down. Medium control ("like a gentle hug," our buyers say) means you could wear it comfortably any and every day of the week.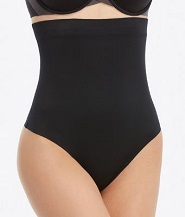 The All-in-One: Spanx Suit Your Fancy Medium Control Strapless Bodysuit

Under a dress, skirt or jumpsuit, this multitasker smooths and slims. So much design intelligence went into this one: The patented "flexible fit" underwire cups accommodate a wide range of chests, so you don't need to care about getting your bra size just right, or if your top and bottom halves aren't exactly proportional. Single-layer shaping resists static cling, meaning you can wear it to work with a structured suit as easily as to a wedding under something sheer. Laser-cut edges leave no telltale lines behind. Convertible, fully adjustable straps work five different ways so no matter what silhouette your top has, this one-and-done piece can stealthily do its thing.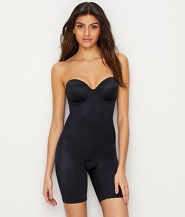 The Dress-Maker: Spanx SmartGrip Medium Control Open-Bust Slip

If you're a dress person, you're already familiar with the many reasons you need a great slip. Well, this is that slip. We love it so because a) you can wear whatever bra you want with it, b) the SmartGrip bit means it stays in place, c) it makes everything look good from waist to thighs, with extra reinforcement at the stomach, d) it keeps the dress looking smooth, and e) it does all of the above without making you feel constrained or uncomfortably stuffed. It's a really well thought out insurance layer.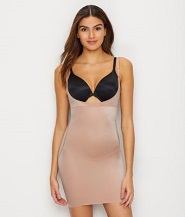 The Secret Weapon: Spanx Suit Your Fancy Booty Booster Mid-Thigh Shaper

Listen, not everyone was naturally blessed with a perfect peach. For a more amazing rear view served up with a side of lower-body slimming, make these shapers your little secret. Medium control shorts give you a measure of modesty under a skirt or dress, plus tummy/hip/thigh-enhancing under all of those and pants (not just trousers but jeans and leggings, too). They're lightweight and invisible on their own; add into the mix removable, adjustable pads, and you've got yourself a damn good back story.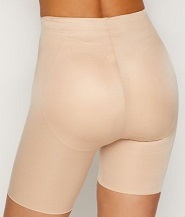 What shapewear do you personally swear by? Drop a note in the comments below!
The following two tabs change content below.

Brooke is the editor of this here blog. In a previous life, she was an editor at Good Housekeeping and O, The Oprah Magazine. Brooke has written for Glamour, Travel+Leisure, New York Magazine and more. She's into concerts, travel and her exceptionally adorable daughter and husband.

Latest posts by Brooke Glassberg (see all)