Irene, 38, works out at The Max Challenge with Torrie Rathjen, and once she saw her workout buddy's bra fit makeover, she had to have one.
Now that her three young sons are getting more independent, Irene can shift a bit of her focus to her own well-being. New Year's resolutions have got nothing on her: Since Irene already works out five days a week, what she needed was new sports bras that were up to the challenge.
So was Bare Necessities Bra Fit Expert Kristyn, a certified personal trainer and a mom of three boys herself. She instantly got where Irene was coming from: more of a feel-good style makeover than a dramatic size overhaul. These two showed us how to end the year on a high note….
BEFORE
"I've always had large breasts and, after breastfeeding, I had a reduction. I knew the importance of getting proper support and fit from my bra, whereas so many women spend their lives wearing the wrong size. I'd love to show moms out there that we can be sexy and comfortable at the same time, at any size," Irene wrote to Bare it All.
Down more than 30 pounds, or about halfway to her goal, Irene knows from size fluctuations. "I feel wonderful about my body right now, and I'm looking forward to further transformation," she told Kristyn.
Well-versed in bras from a lifetime of experience, Irene had grown to love a tight band, so long as "it doesn't cut and create back fat." Her dislike: "A long line of cleavage. I prefer full-coverage cups with no opportunity to fall out or squish into a uni-boob." Said differently, Kristyn needed to find Irene the best encapsulation-style sports bras for her body.
Irene was basically living in the Freya Sonic High Impact Underwire Sports Bras—a best seller and a Bra Fit Expert Pick—but hers were years past their life expectancy. "I wear sports bras because nothing else is comfortable," Irene said. She was holding out hope for a regular bra that would be attractive and supportive, and a sports bra to comfortably fit her changing figure.
Kristyn measured Irene over the phone at a 36H (US), though Kristyn had a gut feeling she might actually be closer to a G-cup. (Spoiler: That's where Irene landed.)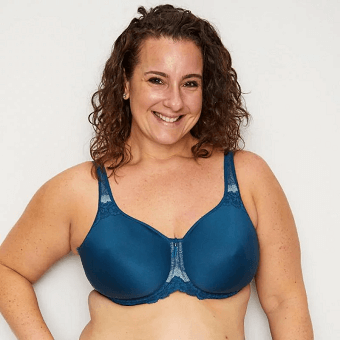 THE REVELATION
While Irene was open to just about any style, it took trying on about two dozen bras before she felt like she'd found The Ones.
Her new favorite for everyday, the Wacoal Basic Benefits T-Shirt Bra, was in the first batch of styles Kristyn sent. Once she pulled it on, angels pretty much started singing. Its thin padding was just enough for modesty without adding bulking, she filled out the cups just right, the center gore tacked properly, no major cleavage line appeared and the gorgeous shade of blue flattered her endlessly.
When it came to sports bras, Irene kept hoping to level up. She liked but didn't love styles from full-bust brands such as Glamorise, Curvy Couture and Prima Donna. What did win her over: two more Wacoal bras, the new Wacoal High Impact Convertible Underwire Sports Bra and the Wacoal High Impact Sports Bra, both in 36DDD.
Like Lauren Russo in Panache, Irene had found the brand that did everything right on her…plus a few more (see full list at end).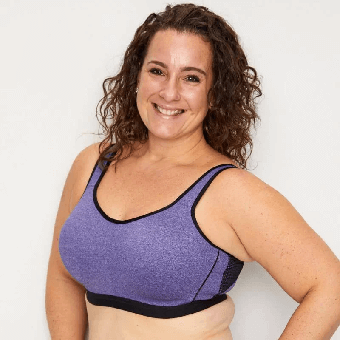 AFTER
As in her new Wacoals, Kristyn pointed out that Irene took different cup sizes depending on her shape in relation to the bra style. "You can be three different sizes in one manufacturer! The only way to know is to try, try, try," said Kristyn.
That's exactly why Irene wanted an expert's help in the first place. When trying on bras alone, she wasn't always sure what was the better way to go, how to convert cup sizes or which fit trouble spots could be improved.
"Kristyn is so knowledgeable. She attended to my individual considerations and understood immediately exactly how I like my bras to fit. Together, we found comfort-meets-sexy, which was seriously lacking in my old, overworked bras," Irene said. "I love these new bras on my body. I'm moving from 'three C-sections-in-three-years mom' to 'mission: optimum health mom' who is comfortable in her own skin again. Bare Necessities played a big role in getting me there."
Find your own winners by calling (877-728-9272 x4) or chatting with an expert at barenecessities.com.
The following two tabs change content below.
Brooke is the editor of this here blog. In a previous life, she was an editor at Good Housekeeping and O, The Oprah Magazine. Brooke has written for Glamour, Travel+Leisure, New York Magazine and more. She's into concerts, travel and her exceptionally adorable daughter and husband.
Latest posts by Brooke Glassberg (see all)