It's January, meaning we all just made New Year's fitness resolutions revolving around health and wellness. To that end: We linked up with real women to help them find new favorite sports bras that would help propel them through their workouts. They put some of our merchants' picks through their paces at the gym, in the dance studio and on the trail, then reported back. Here, in part one of our two-part series, is what they found—so you can find new ways to power through this year, too.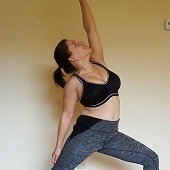 Tester: Deborah, 31
Sport: Yoga
Size: 32FF
Sports Bra: Freya
Read more about Deborah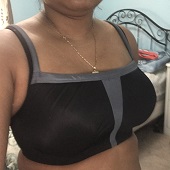 Tester: Sushma, 30
Sport: Walking
Size: 32E
Sports Bra: Le Mystère
Read more about Sushma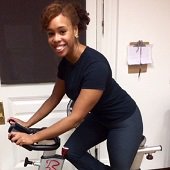 Tester: M'Ral, 30
Sport: Cycling
Size: 28H
Sports Bra: Panache
Read more about M'Ral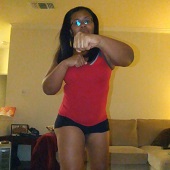 Tester: Victoria, 33
Sport: Kickboxing
Size: 36FF
Sports Bra: Freya
Read more about Victoria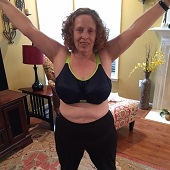 Tester: Jill, 60
Sport: Aerobics
Size: 38FF
Sports Bra: Elomi
Read more about Jill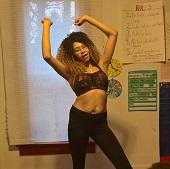 Tester: Bethany, 37
Sport: Dancing
Size: 30F
Sports Bra: Panache
Read more about Bethany
DEBORAH + FREYA SONIC
Pros: It's a great all-around sports bra—light and comfortable, yet I felt very held-in. I loved the fabric and the internal support of the cups. I usually practice hot yoga, and a bra that doesn't trap heat and sweat is much appreciated!
Cons: The back felt tight, but I'm expecting it to loosen up a little bit as it gets washed.
How it impacted performance: It didn't, which is very high praise! The constant movement during a yoga flow can dislocate a lot of my sports bras and require adjustments. This bra stayed in place. I love a bra that I don't have to worry about during practice.
Who it's best for: I felt it was great for yoga. In wearing it around to get a feel for it, I also think it would be great for an occasional jog or a workout that's a little higher impact.
What makes it different: The fabric was very comfy! It was lighter than a lot of the other bras I own. I found that this bra adjusted well, and the placement of the straps worked very well on my body.
In three words: Light, comfortable, stylish
Personal mantra: "You are strong!"
SUSHMA + LE MYSTERE MAXIMUM CONTROL
Pros: After walking around in it for awhile, I felt well supported, as though I could walk all day. I liked that it was basically a real bra covered up with sports bra-like style.
Cons: The first time wearing was a bit tight. If the band had a little more stretch, it would have been perfect.
How it impacted performance: I didn't feel like I was wearing a bra!
Who it's best for: I would recommend the bra to anyone. If the band is an issue for you, you can try a size up.
What makes it different: It had the support of a bra, making it more supportive than the average sports bra.
In three words: Comfy, supportive, concealing
Personal mantra: "Do what you can."
M'RAL + PANACHE ULTIMATE MAXIMUM CONTROL
Pros: I love being supported because it helps me feel confident. This bra let me jump, run and spin with virtually no bounce. I also like the padded straps. They don't dig into my shoulders, and I like having the ability to convert them into a racerback. It makes me look thinner! While I work out to stay fit, I also like that it gives me a great silhouette.
Cons: It can look a bit bulky under tight workout clothes.
How it impacted performance: This bra helped me work out my hardest. When the cold weather sets in, I put my bike into storage and go to indoor cycling and spin classes. In this bra, I don't have to worry about bounce or feel self-conscious when I'm in position 2 or 3 on the bike. I also don't have to worry about chest or back pain as I'm leaning over the handle bars for an hour-long class. The bra makes me feel fit and energizes me to push further.
Who it's best for: Anyone who participates in high-impact workouts and cross-training. The bra easily lets you move from your bike to the track to any court.
What makes it different: It's way more stylish than my current sports bra. I love the neon pixel print. It's more fun than a solid color—even if I'm the only one who gets to see it.
In three words: Supportive, stylish, miracle
Personal mantra: "I'm not working out for today, I'm working out for my future."
VICTORIA + FREYA SONIC
Pros: The bra provided a whole lot of support. It was almost like my boobs didn't move at all during the workout. The band wasn't too tight; it fit just right. The full coverage was also nice. I wasn't spilling out. The overall support was the best part—this is the most supportive sports bra I've worn. I also appreciated the extra hooks that allow it to switch to a racerback style.
Cons: The straps dug in a bit, which could be reduced by adjusting them. It was also a little challenging hooking the straps together to form a racerback once the bra was on.
How it impacted performance: It made my workout better because I didn't have the discomfort of bouncing around. I felt very secure wearing it.
Who it's best for: Everyone, especially larger-chested women. This bra is super supportive and alleviates the need to wear overly tight sports bras, or two at a time like some women I know.
What makes it different: This bra has an underwire, which my current sports bra doesn't. You just pull my old bra overhead to get it on; this one hooks like a regular bra.
In three words: Best support ever!
Personal mantra: "You must finish! The more you do it, the more you can do it."
JILL + ELOMI ENERGISE
Pros: Having worn it several times now, the bra fits well and is comfortable. It provides full coverage and a good bit of support. I'm a 38G, so that's very important to me. I like the color and the fact that the bra is stylish enough to be worn without a shirt.
Cons: I don't have any.
How it impacted performance: The bra definitely allowed me to worry less about bouncing around. Just knowing that you have good support lets you stop thinking about the bra and concentrate on whatever exercise you're doing.
Who it's best for: Large-breasted women who are looking for good support in a playful, fun sports bra.
What makes it different: My current sports bra has underwires. This one doesn't but still provides good support.
In three words: Pretty, supportive, comfortable
Personal mantra: "I can do it!"
BETHANY + PANACHE ULTIMATE MAXIMUM CONTROL
Pros: This bra is cute and fun to wear. It's so comfortable and when I dance with my five kids, it keeps up with me when all they want to do is jump. When my husband dances with me in classes on the weekends, I'm not nervous about him dipping me because I know this bra will hold everything together. I would have to say what I love most is the underwire and the adjustable T-back clip option. I actually changed from T-back to regular often with this bra. Love that feature! The cups literally feel like pillows; I forget I'm wearing the bra most of the time.
Cons: The straps are wide for a short-shouldered, short-torsoed woman like myself.
How it impacted performance: I felt free to dance however I wanted without fear of losing support. My husband even noticed that I had better posture while dancing.
Who it's best for: This bra is a large-chested woman's best friend. It's also great for women who work out hard.
What makes it different: My previous sports bra wasn't supportive at all, and it gave me uniboob. This bra does a ton of hard work for me and keeps me looking normal, cute and supported.
In three words: Stylish, supportive and awesome!
Personal mantra: "Keep moving."
Check out Part Two of the sports bra road test!
The following two tabs change content below.

Brooke is the editor of this here blog. In a previous life, she was an editor at Good Housekeeping and O, The Oprah Magazine. Brooke has written for Glamour, Travel+Leisure, New York Magazine and more. She's into concerts, travel and her exceptionally adorable daughter and husband.

Latest posts by Brooke Glassberg (see all)