Welcome to spring-cleaning season! As devotees of the Kondo method will agree, it's liberating—life-changing, even—to shed stuff that doesn't bring you happiness. But there is a flip side of that cathartic coin: What to do when you realize you're going to need to replace those old standbys?
Take, for example, The Bra. You know the one we mean. It's stretched out so far you're supporting it rather than the other way around. It's been through the wringer literally and figuratively. Yet, beyond all reason, you love it. You cling to it. It is so. Very. Comfortable. But make no mistake, it's shot. Yep, it's time for an intervention.
We challenged Bra FIt Expert Brandi Macholl to help some BN staffers part ways with a few beloved bras that are admittedly well past their expiration dates (not even women who work for a bra company are exempt from holding onto a favorite long after its time has passed). In each instance, she came up with a new, equally awesome replacement. "Dare to do better," Brandi says. "That's what we're here for." (Put her to the test yourself: 877-728-9272)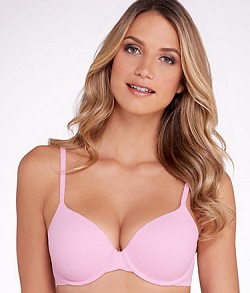 Marianne F., email marketing manager:
Fine Lines Memory Full Coverage T-Shirt Bra is my old favorite. I have it in a few colors; the nude definitely gets the most use. It fits me great overall, has just the right amount of padding, and the band is tight and supportive without digging in and giving me back fat. One tiny gripe: My clothes sometimes cling to the material.
Brandi's recommendation: I'm suggesting my very favorite bra for Marianne, the Calvin Klein Perfectly Fit Modern T-Shirt Bra. It's very similar in style to her Fine Lines favorite—but with ultra-luxe, stretch microfiber, it's amazingly smooth. Her clothes will glide right over it. This will be as comfortable as her old go-to from day one.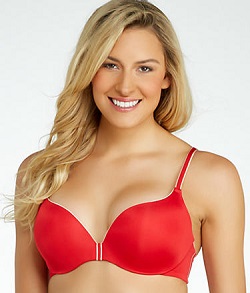 Donna L., executive assistant:
I got this bra not long after I started working here, a little more than halfway through my weight loss. It's a Warner's, I think, in leopard print of all things. You could probably fit two of the new me in the band and three in the cups. It was probably a little too big when I took it home, and it is now bordering on ridiculous. I continue to wear it under certain shirts because—oversharing moment—it's super-padded, and there are times that I miss my pre-weight loss boobs. Don't judge; help!
Brandi's recommendation:
The Chantelle Irresistible Convertible Push-Up Bra would be great for Donna! It has support, padding, and it's really comfortable. It adds one cup size when the straps are worn in the original position, and two cup sizes when you convert the straps to cross in back, so this will definitely give her that fuller look without compromising a proper fit. (And if she really misses the leopard print, we've got that, too.)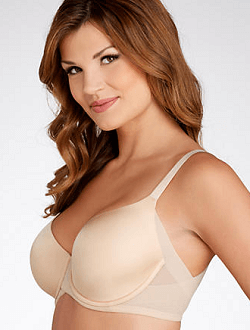 Nelly R., warehouse supervisor:
My most beloved bra is the Olga To a Tee Lace T-Shirt Bra. I need a full cup and something lightly lined for no show-through. I like the back-smoothing feature and its fully adjustable straps. I have it in white and purple; I'd prefer a light color. I've had them for about a year or so. I'm more active now than I was when I bought them, and I really need something with more support.
Brandi's recommendation:
I would love for Nelly to try the Wacoal
Ultimate Side Smoother Bra. Just like her Olga, it has extra side coverage to eliminate underarm bulge. The foam-lined underwire cups will prevent show-through, which is my favorite feature of a T-shirt bra, and the higher composition of Spandex should move and stretch with her as she goes about her very active day.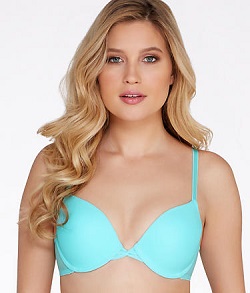 Erin C., e-commerce marketing manager:
My go-to is the nude Maidenform Custom Lift Demi T-Shirt Bra. It's been a longtime fave because it's broken in—very comfortable and practical. And its smooth cups make it a staple for all shirts. I wear it nonstop. I've had it for maybe six years—bad, I know, but I do wash it every week! And because of that, it just doesn't fit me right anymore.
Brandi's recommendation:
Let me suggest the OnGossamer Gossamer Mesh Bump It Up Bra. The superfine stretch microfiber mesh will make this bra comfortable and invisible under tops. I love that this will take her from running errands by day to a night out; all you have to do is give it a simple twist in the center to add a full cup size. Cool, right?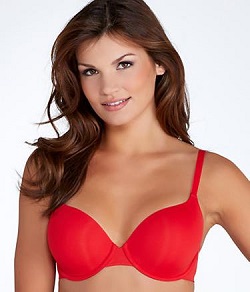 Brooke G., copywriter:
My Spanx Brallelujah has been the comfiest MVP in my drawer. It gave my small chest a natural shape without push-up padding and disappeared under clothes. While exceedingly comfy, if I'm being honest, it has stretched out too much to wear anymore. And though I like the ease of the front clasp, you can't adjust the band or straps.
Brandi's recommendation:
I would try the b.tempt'd by Wacoal b. classic Convertible T-shirt Bra. It's a great brand for smaller frames. This one is just as minimalist as the Spanx, but with stretch microfiber and foam-lined cups. The J-hook helps the straps vanish under summer tops.
The following two tabs change content below.
Brooke is the editor of this here blog. In a previous life, she was an editor at Good Housekeeping and O, The Oprah Magazine. Brooke has written for Glamour, Travel+Leisure, New York Magazine and more. She's into concerts, travel and her exceptionally adorable daughter and husband.
Latest posts by Brooke Glassberg (see all)