Ashley Graham—designer, model, body activist, disruptor of the status quo—and Bare Necessities have something in common: We're both preoccupied with lifting women up. To celebrate today's debut of her lingerie line, we sat down with her for an exclusive Q&A at our headquarters with BN staffers and plus-size style bloggers.
Since Ashley was discovered at age 12 in a mall in her native Nebraska, she's been working nonstop to shake up the notoriously intractable fashion world. The proof is in the press: This year alone, Ashley simultaneously joined and forever altered the ranks of Sports Illustrated swimsuit issue cover models, and Forbes magazine named her a "30 Under 30."
"My mom and dad told me, 'If you try it, you have to stick with it,'" says Ashley, and those words drove her. At 17, Ashley moved to New York by herself. "I gained my freshman 15…more like 30. I was still working, I was still fabulous, but I had agents literally waving money in my face saying, 'if you lost some more LBs, baby, you'd get a lot more of this.' In that moment I realized, 'Why am I modeling? What is this for?'" She knew she had to blaze her own trail, but something was holding her back:
Herself.
"I didn't like me," Ashley says. "I devalued the woman I saw in the mirror. My biggest goal was to make it, but I had to learn to love the woman I was. The biggest part of my brand is me. My body is my brand, my face is my brand, my T&A are my brand, my heart and my soul are my brand."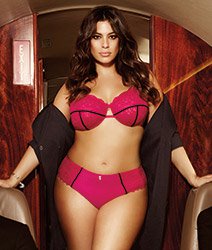 Her mother taught her to do daily affirmations ("You are bold, you are brilliant, you are beautiful"), gradually rewiring how Ashley perceived herself. "I gained my confidence back after gaining weight and hating the cellulite on the back of my thighs, the fact that my thighs jiggled…. Now I can talk about the things people have called imperfections for so long," she says.
Coming to terms with who she is played a role in creating her line (in partnership with Canadian plus-size chain Addition Elle). "I needed something that was supportive and sexy. We can find support, we can find sexy, but for girls like me and bigger, it's hard to find the combination where it's still classy," Ashley says.
This spring's La Scala collection, Ashley's 8th and the first available at bare necessities, reflects the vibrant, passionate nature of opera. "We haven't done this combination before," Ashley says. "I stick with black because it's the chic sexiness I'm always in, but I also wanted hot pink because it's in your face. I encourage women to think of bras as a part of their outfit."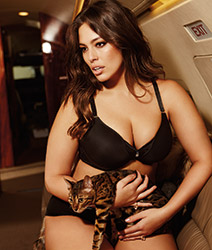 Ashley also put together an essentials line, her "greatest hits" collection. "It isn't just basics. We've got pinstripes, light pink, lace, texture," Ashley says. "I don't believe there's one woman in my size range who couldn't wear the AG line. I created a supportive bodysuit because she doesn't have one to get into right now. I created chemises with see-through panels because I want her to feel good in front of her partner."
To that we say yes, please, and thank you very much. Without further ado, here is Ashley unfiltered, on everything from Barbie to balancing it all….

Q: How do you create a new line? How have you grown from your first collection to now? —Shainna Tucker, blogger, athickgirlscloset.com
A: When I have my production design meetings with Addition Elle, I bring lots of tear sheets, we're constantly emailing, it's a true collaboration. I take inspiration from designers that don't have my size. Colors, designs, fabrics—I try to put that little AG flair on it.
I really feel like I've grown in my understanding of bras. There are 25 components in a bra; it's so technical. These suckers have got to stay up and be cute. The beautiful thing about curvy women is that we're all created differently, and our desires are different as well, so I'm trying to cater to every woman. That's why we extended sizing. My sister is an H-cup, and she was always so disappointed when I would come out with another collection. She'd be like, "I still can't wear it, can I?" Abby, I made that size for you!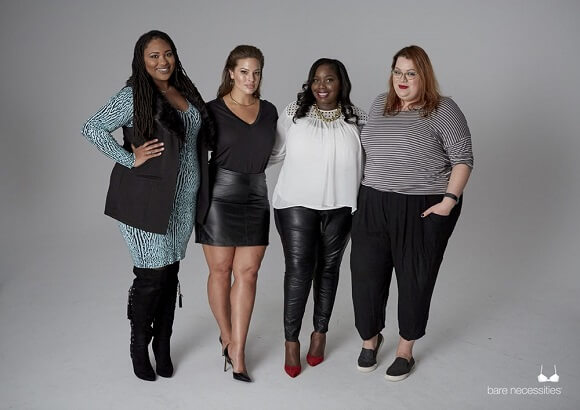 Q: What's your biggest pet peeve about bras, and how do yours differ? —Alissa Wilson, blogger, stylishcurves.com
A: One of my pet peeves is poor quality, when the wires start poking out. When I wash it, I don't want to have to worry about it. And when I see a bra on, I can't stand when the center part [the gore] isn't flush. And I swear so many women are in the wrong size bra! The bands are too big, the cups are too small, you're constantly pulling. I really wish we could educate women about that. bare necessities found only 3 in 10 women are wearing the right size bra. That's terrible! For my line, everything is fit to a tee. We have an amazing fit model who has been with Addition Elle for years. I don't understand how these fit models stay the same size forever; I could never do it. So I try things on in design meetings, I'm there whipping my bra off, and if I wouldn't wear it, we're not designing it. We do a lot of extra stitching because we're a curvy brand and want to make sure there's more support in everything we do.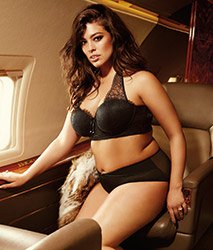 Q: What sets you apart from more commonly known plus-size brands? —Cari Duprey, make-up artist
A: I think what sets me apart from the big brands—and I'm a big brand girl—is the opportunity to have a one-on-one relationship with me to a certain degree. We don't know who the designers are of the bigger companies, and I'm bringing a sense of my personal style to everything I create. I'm also listening. I read every Instagram comment, I read every tweet, so if there's a problem, I'm on the phone immediately with the designers at Addition Elle saying, "let's fix this."
Q: What are your thoughts on the new Barbie and how it will shape how girls see themselves? —Melissa Costello, Bra Fit Expert
A: I applaud Mattel, but I also want to say, "Really, it's taken this long?" It's proof that trying to change the fashion industry is working! If I'd had a Barbie to play with that had big hips and a not-flat stomach, I would have been like, "Oh my god, I'm actually perfect, just like Barbie!" Because the word 'perfection' gets thrown around so much, and Barbie is the image of perfection, right? But if perfection had an image of a multitude of ages, sizes and races then all girls would feel better about themselves, correct? So I really hope and pray that our daughters can believe they're perfect the way they are because of this.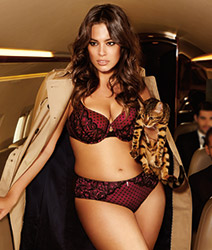 Q: You've had terrific success with social media. How do you separate your day between what you're willing to share and what you're not? —Noah Wrubel, CEO
A: If you follow me on Snapchat, one day you will get the inside scoop on everything and, other days, you just won't. I'm choosy. Instagram is easy because it's super-curated and you've got to think about what you're posting and why. Twitter is, I think, a trap to get yourself in trouble, so I do a lot of retweeting. But I think it's great to let my fans in on what I'm doing and where I want to be headed because this hasn't been done yet. We're still changing so much in this industry, and I want everyone who's following me to be a part of it. Because it's not going to be just one person who changes things, it's all of us. So I try to invite people in as much as I can…but I'm not taking them to the bathroom with me.
Q: How do you balance work and having a life? —Brooke Glassberg, editor
A: Prayer, honey. I have to have my "me time" when I wake up in the morning. I honestly have 10 minutes of prayers. Then I'll go in and have a massaging facial, I have my green juice, my fruit. If I don't have that time, the world might end. It's important. I think a lot of women especially forget about themselves. It's hard to remember to always put yourself first. I want my husband to know he's constantly my number one, but if I'm not good, we're not going to be good.
Q: Any other categories you've become interested in getting into? —Heather Viskovic, premium buyer
A: I've been very interested in designing activewear. I think it's definitely the next thing in my repertoire, and it's needed. It's even hard for me to find activewear that fits, that I truly love, that's fashionable, that I can run to Target in, that's truly athleisure. So yes, girl, this empire is growing.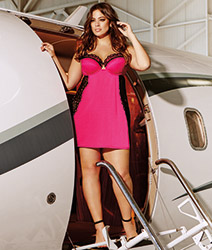 Q: You're all about being curvy and sexy, fit and healthy. What's your diet and fitness regimen? —Donna Lewis, executive assistant
A: Girl, it's a struggle. I work out two to three times a week. I've realized I'm not a runner, but I do like a good class every once in awhile; my body really likes when I mix things up. And for me, eating has always been an issue. I don't know portion control; I don't know when to stop. I've had this interesting relationship with food because I was raised in Nebraska, where we're very meat-and-potatoes-type people. If you didn't finish what was on the plate in front of you, you couldn't leave the table. So I've had to change my mind about what's healthy. I've slowly been figuring it out. It's 80 percent food, 20 percent working out, and as long as I can continue to control my desire to eat sugar every night, then I keep all of this sexiness intact.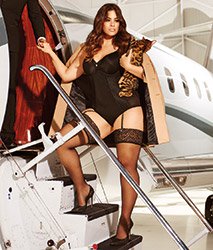 Q: If you were having lunch with my daughter, a high school freshman surrounded by selfie-mania, what would you tell her that you wish someone had told you at that age? —Rich Keller, VP, brand marketing
A: I remember all the negative things people told me that made me stronger today. I actually had my friend's mother tell me, "God didn't make you skinny because he knew what you would do with your body." I think of her all the time because she was so negative in just that one phrase; who knows what she did to her daughter? Now kids hear a lot of affirming words from their parents, hopefully. But I also believe there's something about having that fire ignited under you. I'm not saying it's necessary, but there's something inside you that says, "What if I'm not perfect? So what? I'm going to show somebody what not perfect looks like." That's what I did with that comment. And I went and I started changing people's minds. So if I were sitting with your daughter, I would say, "Can we take another selfie? Because we look so good!"
The following two tabs change content below.

Brooke is the editor of this here blog. In a previous life, she was an editor at Good Housekeeping and O, The Oprah Magazine. Brooke has written for Glamour, Travel+Leisure, New York Magazine and more. She's into concerts, travel and her exceptionally adorable daughter and husband.

Latest posts by Brooke Glassberg (see all)