Curvy Kate, our dear friends from London, decamped to Bare Necessities this past weekend. Given our shared reason for being—empowering women of every age, size and shape—we were excited and honored to be their exclusive partners in hosting the annual Star in a Bra competition. Fans of the brands entered to become the new face of Curvy Kate and win a yearlong contract with True Model Management, as well as all the Curvy Kate lingerie imaginable.
"We received about a thousand entries, the most ever for Star in a Bra stateside," says Chantelle Crabb, Curvy Kate's communications manager, "bra whisperer" and a former winner herself—so she knows the rigors the 19 contestants went through: before-after photos; bra fittings with Bare Necessities' ace Bra Fit Experts Mette, Michelle and Kristyn; photo shoots in three different bras and interviews with Bare it All. You'd never know that some of the contestants hadn't so much as stepped out of their bedrooms in their skivvies before, much less in front of a camera in a studio full of strangers, but they brought it like the bold, confident women they are.
Today, those 19 inspiring women, beautiful inside and out, became the final 7. And the winner is up to you.
Read on for their moving personal stories, then visit Curvy Kate's Star in a Bra to cast a vote for your favorite. The winner will be announced on November 15.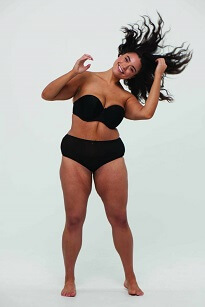 GRACE DOTY
About Grace: 26, New York, audio engineering student and singer-songwriter
In her own words: "I lost 100 pounds with diet and exercise. I feel so much healthier and more self-confident knowing I could tackle a task like that. I was severely bullied growing up. I'm biracial, I was always the tallest person in my class, 'the different one.' In my 20s, I made a choice to embrace that."
Best advice: "'Get uncomfortable.' I was assaulted and suffer from PTSD. It's a constant struggle, but we need to talk openly about these things. I remind myself how strong I am because I've already had to face my worst fears. I can get through literally anything."
Secrets of living a great life: "I'm still trying to figure this out, but I think happiness is the precursor to all other positive things. Happiness comes first; find your true source of it and the rest will naturally follow."
On empowerment: "To me, empowerment means having somehow found the strength within to get what you want out of life. Empowerment is taking control of the cards you've been dealt and creating your best hand."
Favorite bra: Tropics Balcony Bra

NANCY RAMIREZ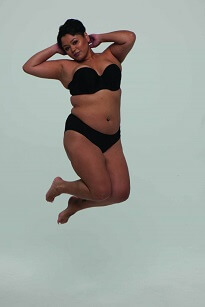 About Nancy: California, plus-size model
In her own words: "I love showing off my body and I want other women to be confident enough to do that, too. Modeling helped me get more comfortable with my body. I love the skin I'm in. I'm not afraid to show it."
On empowerment: "Empowerment is when no matter what obstacles get thrown in your way, you get through with a smile on your face. Obstacles are a learning experience that lead you in the right direction."
Secrets of living a great life: "Spirituality, food and great sex."
I am: "Zany."
Favorite bra: Princess Plunge Bra

DANIEL LEBLANC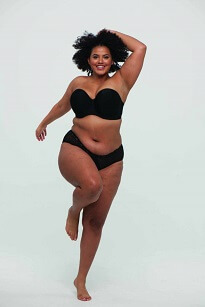 About Daniel: 25, Maryland, bartender and makeup artist
In her own words: "I moved to the US for my baby's father. We're no longer together; I have a girlfriend now. I try to live self-love. It's about trusting myself to learn and unlearn things. I used to care what people thought about me and acted accordingly. I've learned that it's better if you do you; I'll do me."
On empowerment: "It means allowing myself to feel, grow, change, become and be—and loving myself through all those phases."
Secrets of living a great life: "As long as we believe in a greater tomorrow, joy will be waiting around the corner."
I am: "Spontaneous. When I was 19, I packed a suitcase with one week's worth of clothes and went from Germany to Canada. By day three, I knew I wasn't going back home. It felt right, and that's how I live. If something doesn't feel right, I don't do it."
Favorite bra: Princess Plunge Bra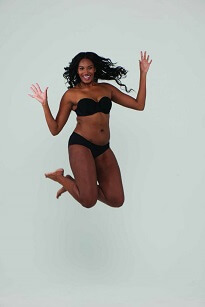 TAYLOR RHODEN
About Taylor: 23, California, aspiring model
In her own words: "I was going for my nursing major, studying public health. When I thought about it, this competition was another way to achieve that same result. I didn't want to do this before I loved myself first. If you think it, you become it. I would fake it until you make it. I'm 6'2" and command attention. Remind yourself you're not in competition with anyone else."
On empowerment: "Encourage, inspire and uplift those around you."
Secrets of living a great life: "Be you. Be free. This is the secret and it's simple. It starts with you."
I am: "POWERFUL!"
Favorite bra: Bridget Balcony Bra

KATIE SEXTON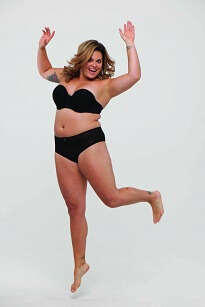 About Katie: 30, Minnesota, men's hairstylist
In her own words: "I was adopted when I was 2 months old. I grew up on the softball field. I have an incredibly mediocre singing voice, which is only good for late night karaoke and singing in my car."
On empowerment: "It's being able to be your true self without fear, and lifting up others to do the same."
Secrets of living a great life: "This has been the year of gratitude for me. I'm working on appreciating everything I have. My legs work, I'm healthy—why would I hate this? It's not worth it. I'm not going to hate anything into submission. If you're in a state of gratitude, there's no room for resentment."
I am: "EXUBERANT!"
Favorite bra: Ellace Balcony Bra

ANNELIESE HERON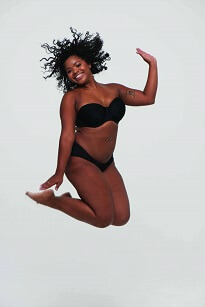 About Anneliese: 25, Florida, dental student
In her own words: "I was waiting three hours in line to get gas before Hurricane Irma when the email came from Curvy Kate that I had made it through, and had to go to a neighbor's house to do the interview when the power went out. I will always find a way. The BoPo movement has made curvy acceptable, but these models are still tall—I'm going to change the standard myself. I'm here to say short girls are in! We won't go unnoticed."
Best advice: "'Keep pushing.' My father passed away when I was 15. I'm the one who found him and had to administer CPR. He would have wanted me to keep living my life."
On empowerment: "To me it means using the knowledge and skills I've acquired to make good choices."
Secret of living a great life: "Have an open mind."
I am: "Resilient."
Favorite bra: "I loved the Curvy Kate Luxe Strapless Bra so much I was doing handstands and cartwheels in it. My boobs actually stayed in place!"

Read more about all of the contestants from our exclusive Star in a Bra weekend interviews: 
Tre Alexander, 41, Massachusetts, paralegal
"I want to show all women, especially curvy women, that being in your 40s is fabulous. I was diagnosed with Multiple Sclerosis in 2012, but I won't let anything hold me back."
Alexa LaGrande, 27, New York, student & aide in a clinic for the disabled
"I get to see so many different types of beauty every day. There are always glimmers of light in places you least expect. I've found happiness in inspiring others to love themselves."
Sondra Holtz, 29, California, 911 dispatcher
"I had to stop internalizing what other people thought of me because they were only seeing a fraction of who I am. I know what I'm capable of. When you live as an optimist, you're limitless, and you know even the little things are miracles. It's really hard to deter a person who looks at life that way."
Lillias Right, 28, Washington, art model & body-positive advocate 
"Accepting your body is the ultimate happiness. No one wakes up powerful with self-awareness and love for themselves. It's a a journey with no end. Being your most authentic self is liberating. Don't wait—your life is happening right now."
Crystal Peralta, 26, California, fashion merchandizer & volunteer at a women's shelter
"Ashley Graham is the goddess of plus-size modeling and why we all do what we do. Everybody has to buy clothes; why not make them for everybody?" 
Emily Aldana, 27, California, disabled Army veteran & owner of a dog-training service
"I want women to see that you can be both strong and feminine beyond the norms. I am disabled but I am not incapable, and my body is beautiful. Take what joy you can find in life, despite hardships and sorrows."
Kathlees Matos, 25, New Jersey, actress & activist
"When I was younger, I had a hard time being tall and dark. I want girls like me to be able to open a magazine and see themselves. That's what Hunter McGrady and Ashley Graham did for me. Now I'm resilient. My mantra: Water off a duck's back."
Noemi Bourdier, 30, New York, assistant director at the NYC Fire Museum
"I consider myself kinda fit because as much as I like working out, my love for ice cream is greater. After completing half marathons and Spartan races, my go-to meal is fries and a beer. No one is in charge of you but you."
Gabrielle Fequiere, 22, New York, plus-size model
"Everyone is diverse. I don't think there is one type of beauty. I am a beautiful, curvy girl who loves her body and represents the majority of the women in the United States. It's important to be honest on the runway."
Mackenzie Forrester, 24, Pennsylvania, stay-at-home mother & student
"After having children, it's easy to get down on yourself because your body changes. You're different, but just as beautiful. I'm all about compassion. To some, it may not be a "strong" word, but I think it's my biggest strength. You'll see me carry an ant out of my house on a napkin."
Shelley Jenkins, 23, California, bartender
"My dad likes to say that there's always someone out there willing to support you; you just have to find that person. I want to be that person for others. I'm the thick one in my family, the one with the curves. Now, my sister wants to be as thick as me."
Daisy Cancel, 23, New Jersey, performance artist/actor/songwriter
"We live in a world of diversity. The media should show that. I have a willingness to learn and a desire to explore the world—I want to have adventures."
The following two tabs change content below.

Brooke is the editor of this here blog. In a previous life, she was an editor at Good Housekeeping and O, The Oprah Magazine. Brooke has written for Glamour, Travel+Leisure, New York Magazine and more. She's into concerts, travel and her exceptionally adorable daughter and husband.

Latest posts by Brooke Glassberg (see all)